Yachting in Taormina, Sicily and Mazzaro Sea Palace - Review
Alone on the Beach recently spent a week at the Mazzaro Sea Palace in Taormina, Sicily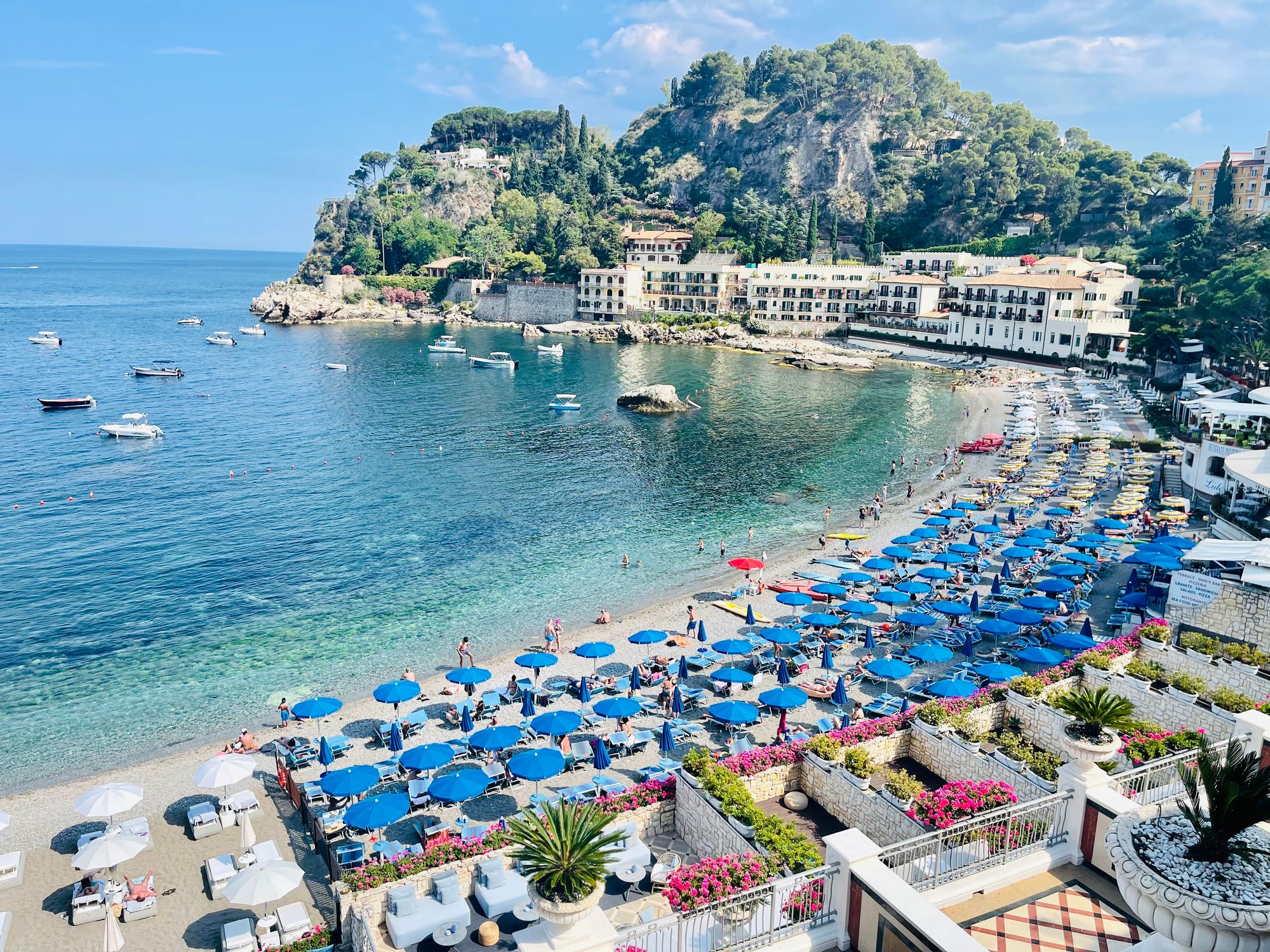 Alone on the Beach recently spent a week at the Mazzaro Sea Palace in Taormina, Sicily.  We are huge White Lotus fans, and so were intrigued to see Season 1 filmed in Wailea where we love to go regularly.  Ironically, we had no idea that we would be selecting for our holiday the location of Season 2, which was being filmed around the time of our visit.  Having been all over Italy but never to Sicily, we selected Taormina as a great beachfront respite to counterbalance some city stays in Rome and Zurich.   Plus, playing to our passion, it would be a solid location for yachting and exploring the area by water.
The big choice when visiting Taormina is whether to stay down on the waterfront or up in the hillside town.  The town is incredibly lovely, however, at 669 feet in elevation the drive can be up to 15 minutes due to the narrow, winding roads leading up from the shore.  Our research pointed us to Mazzaro Sea Palace, as it's a very short 3-minute walk to the (one and only) cable car.  This allowed us to go back and forth from seaside to town effortlessly at our convenience throughout our stay.  It was a great call, as we could wake to breakfast by the sea, swim and boat for the day, and spend the evenings in town for dinner, gelato and shopping.  (White Lotus was filmed up in town, at the San Domenico Palace, rebranded fairly recently as a Four Seasons, though the beach scenes were filmed at various waterfront locations.)
The Mazzaro Sea Palace is directly waterfront in a cove shared by another hotel (the Villa Sant Andrea, a Belmond hotel), as well as some restaurants and a couple of beach clubs.  The various establishments have differently colored furniture and the sections of the beach and walled off from each other.  While the beach clubs were quite full during our summertime stay, the pool and beach areas of the Mazzaro Sea Palace were a relatively quiet sanctuary from an otherwise bustling scene.  The hotel was sold out for our stay, but with so many guests touring the various historical sites, up in town and so forth, the recreational areas were more than ample for a relaxing time.  The helpful pool and beach staff keeps you on dry towels and with cold drinks and snacks.  It's a very nice resort atmosphere.
A quick plug for the Mazzaro Sea Palace over the Belmond.  While Belmond hotels are generally exceptional, we felt that the Mazzaro's location in the cove, sort of in the "center" of the cove, was a better view than the Belmond's, which is at the far end of the cove.  Our choice turned out to be even better because at its location, the sun went behind the hills landing the Belmond in shade, and thus there was at least an hour more of critical afternoon sun at the Mazzaro.  So, we were quite happy with our choice.
The key to the location, as mentioned, is the handy cable car.  It runs every few minutes, and as such we were able to zip up and down to and from the town effortlessly.  The town is stunning.  For the most part, it runs off a single, pedestrian-only cobblestone street that runs about a mile from one end of the town to the other, with a few smaller streets and narrow alleys jutting off here and there.  You can dine outside basically everywhere.
So, while there are a number of good hotels up in town, we felt like we made a terrific call because we were able to have 2 experiences, a seaside resort and the historic town with sunsets and lovely views, all effortlessly due to the cable car.  I feel like if we stayed elsewhere and it was a lengthy drive to and from town, it would have been a much different trip.
Other than a dinner at the hotel our first night, we were up to town every night at mealtime.  We leveraged the American Express Centurion Concierge and the concierges at Mazzaro Sea Palace all of whom did a nice job.  Our favorite three places up in town ended up being the lovely roof terrace at Casa Nicoldi, the subtle yet complex food streetside at Trattoria Tiramisu and especially the outdoor terrace at Vineria Modi, pictured below.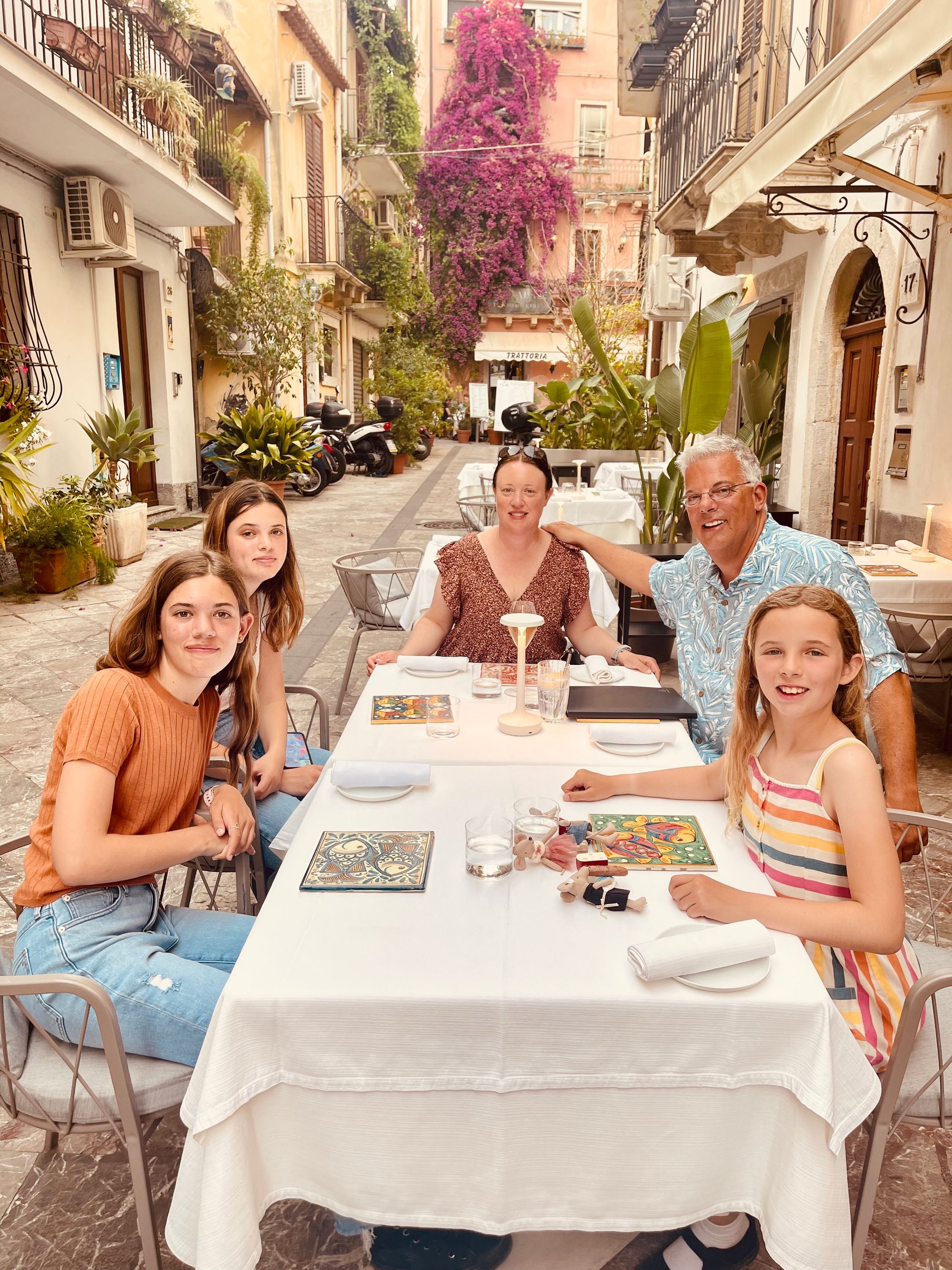 One of the main reasons we chose to visit Taormina was for yachting.  Yachting is a popular activity in Taormina, as the area offers many opportunities for scenic cruising and island hopping.  The coast of Taormina offers a variety of coves, bays and beaches to explore by boat, and the nearby Aeolian Islands are a popular destination for boating enthusiasts.  The clear waters around Taormina are also ideal for swimming and snorkeling, making it a perfect spot for a daytrip on a yacht.
Again here calling on the assistance of the very helpful concierges at Mazzaro Sea Palace, we selected the 52-meter Tuttinoi as our charter yacht.  A blessing is that it was able to come directly offshore of the hotel where we transferred from the beach by tender.  So, no driving to any marina.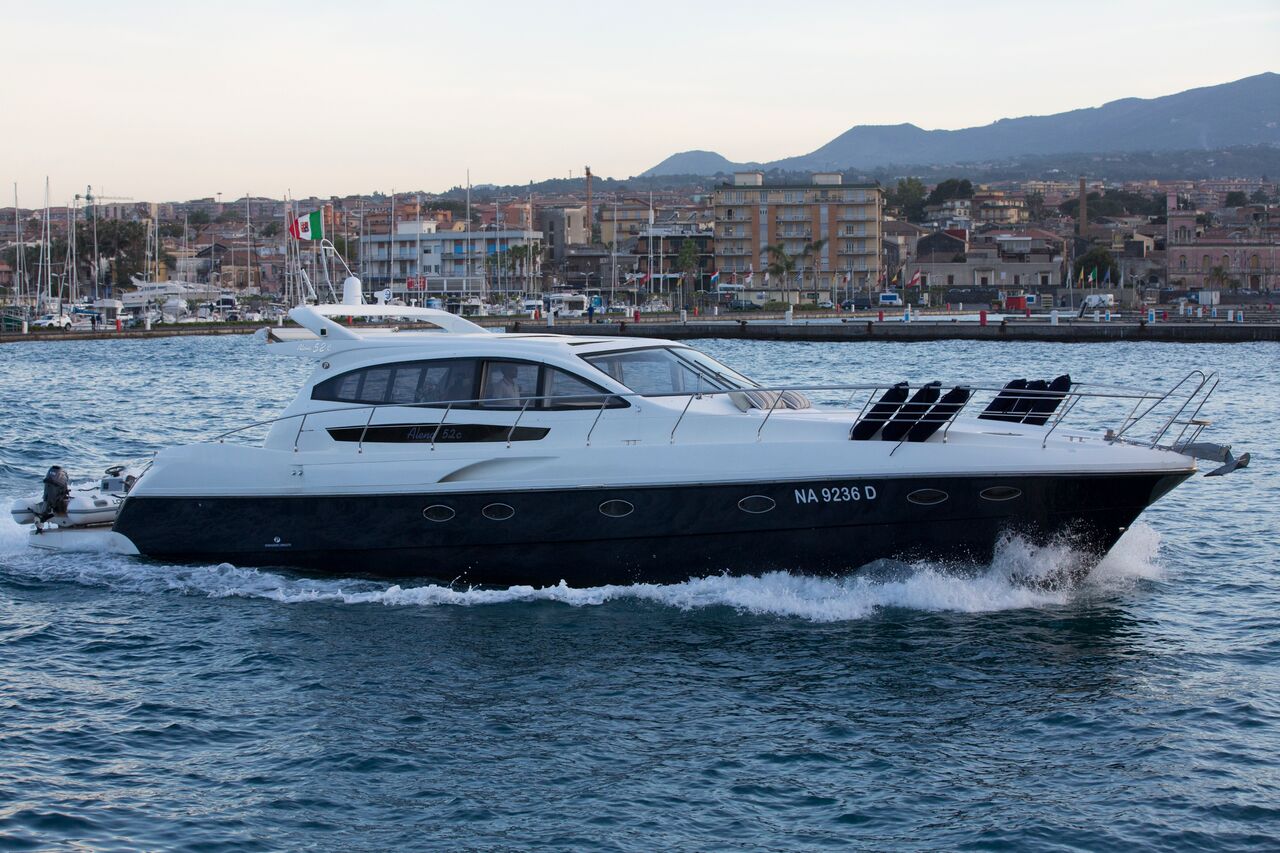 Tuttinoi, chartered through Levante Yachts, is a comfortable open charter motor yacht manufactured by Innovazioni & Progetti and built in 2007, offering 3 cabins for 6 guests and ample outdoor space. The deck layout offers sunbathing areas forward and astern with comfortable cushions for the maximum comfort and relaxation, a spacious cockpit with dining table for al fresco dining and a comfortable aft platform for an easy access to the sea.  It was great to have the low rear sea platform for launching off for swimming and water toys.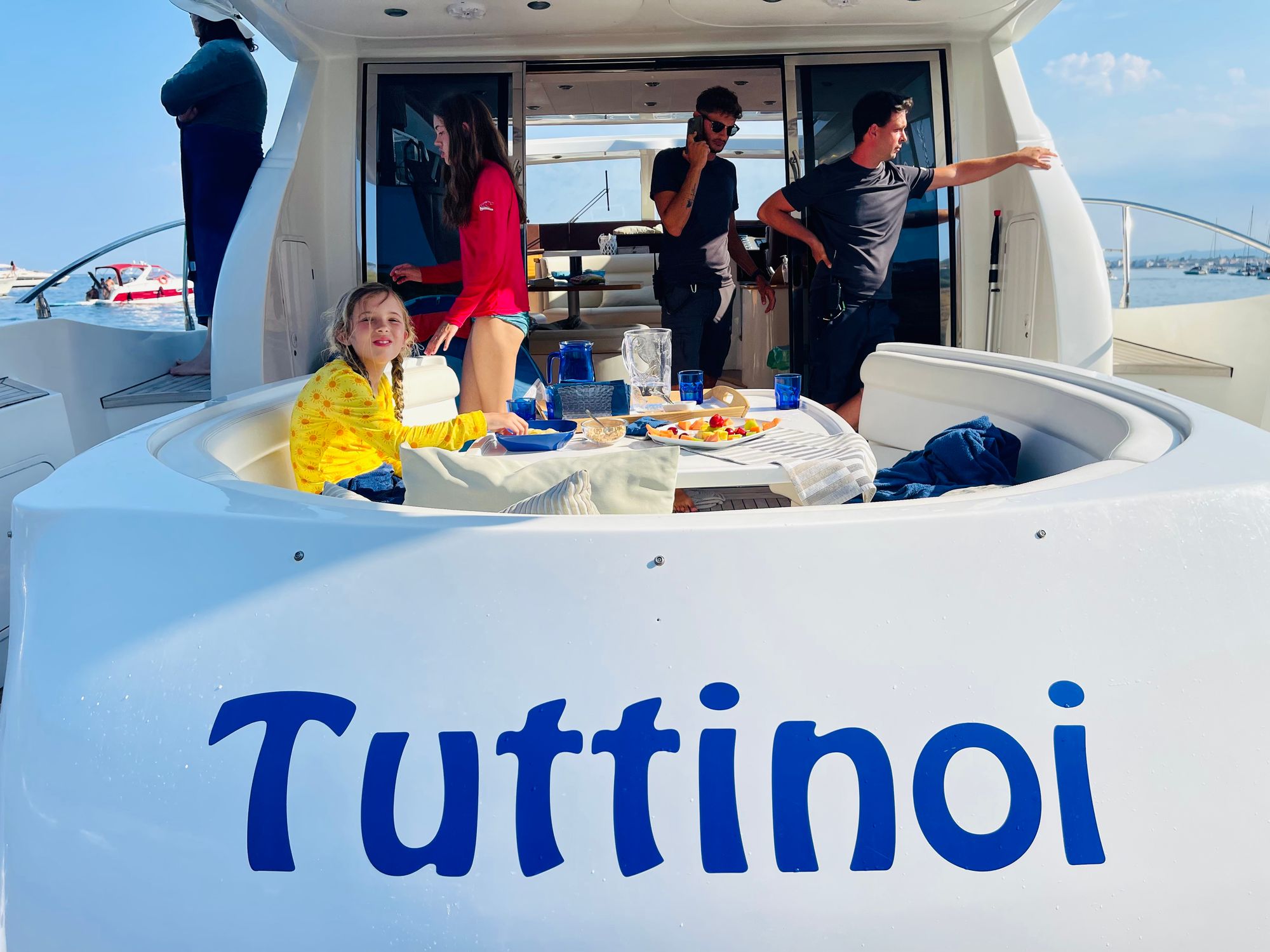 Francesco and Gigi, our two able captains, swapped navigation duties, with one assisting for food and beverage services and to help with water toys and so forth.  We cruised at slow speeds up and down the coast in both directions to explore.  There were lovely places to stop and swim, and the water was clear and perfectly temperate - just slightly cool enough to take the edge off hot summer days without being too cold.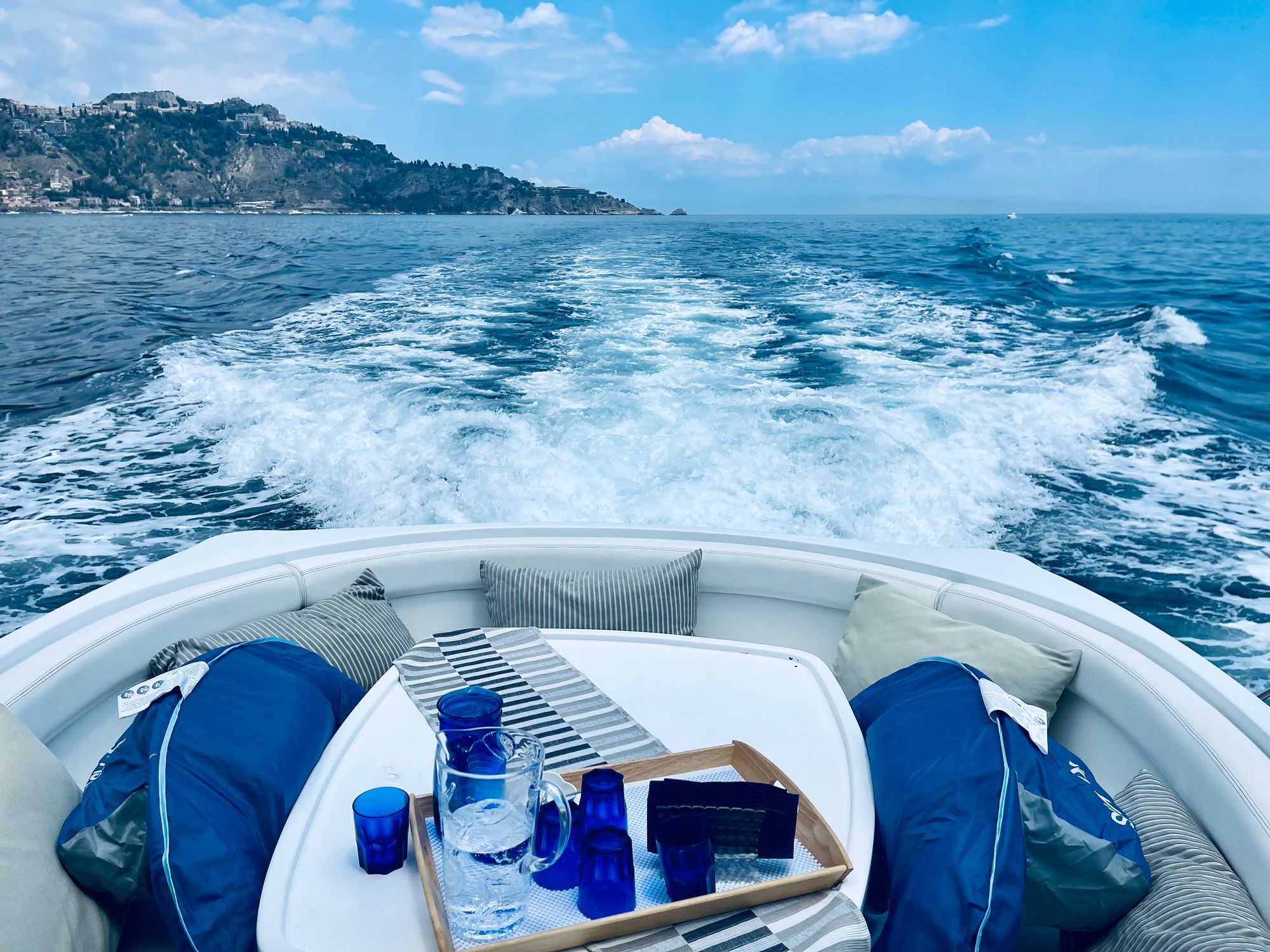 After a lot of swimming, we especially enjoyed relaxing around the rear of the boat in the lovely dining area.  The service included a lot of fresh, local seafood and top-notch Sicilian wines.  The "pro" captains were nice enough to let me have a brief turn at the wheel so I could at least make an entry into my own captain's logbook.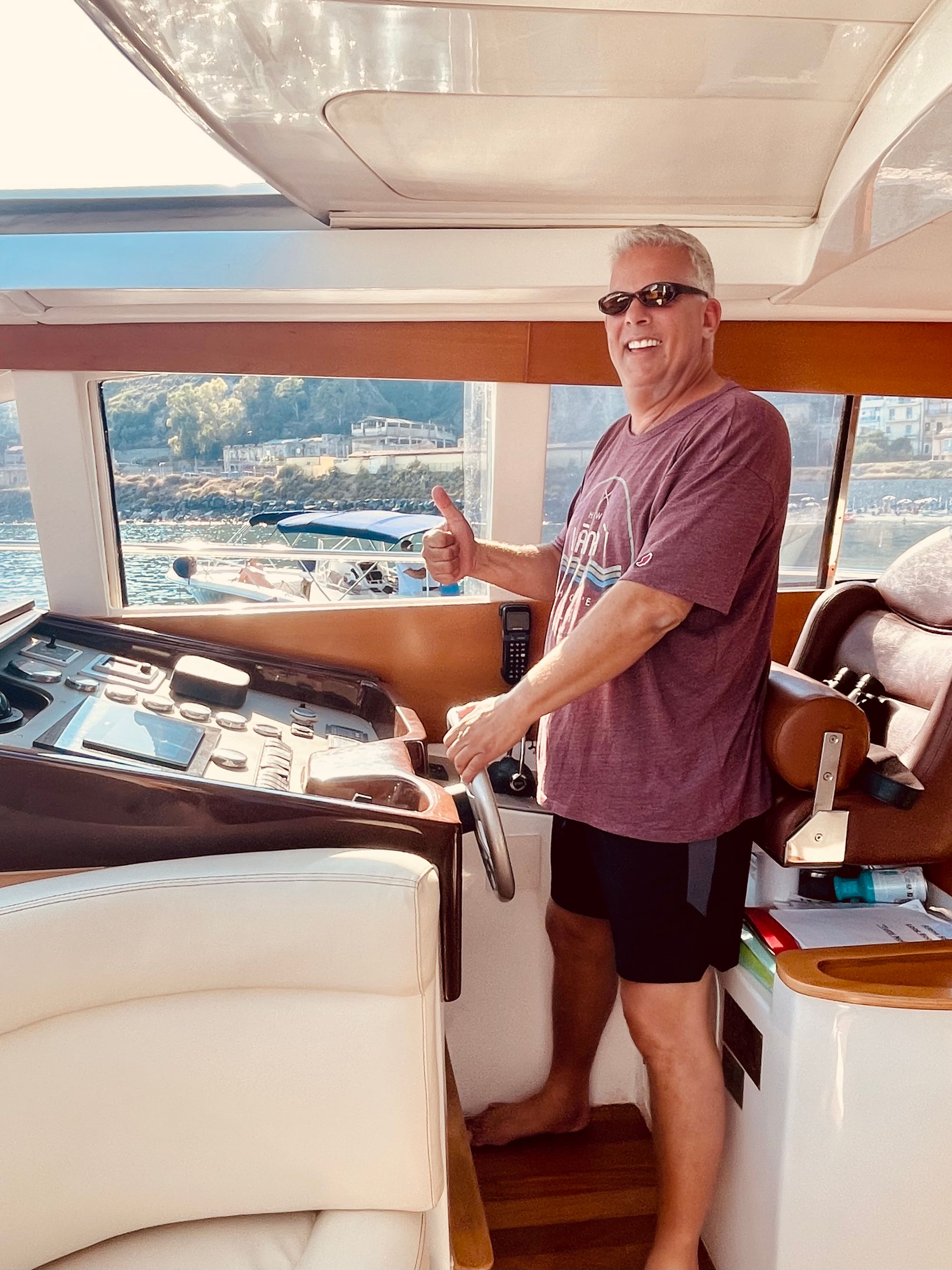 We managed to find quite a few places to drop anchor for a swim, a few of which were quite isolated and others of which were offshore form the many popular beaches, as below.  Boat traffic was generally light, except in a few popular spots.  The boating was relaxing and serene.  Toarmina is truly a paradise for boaters.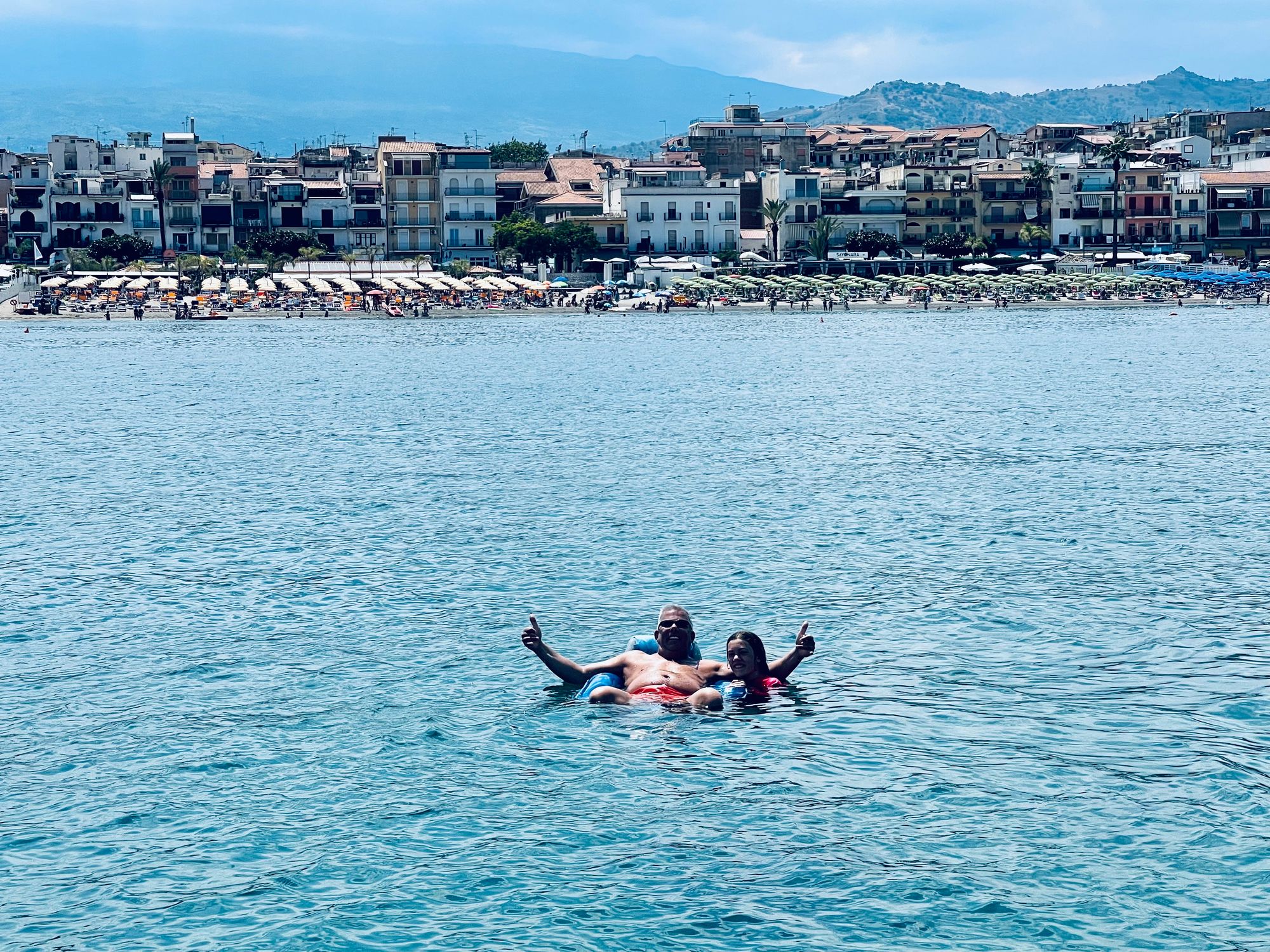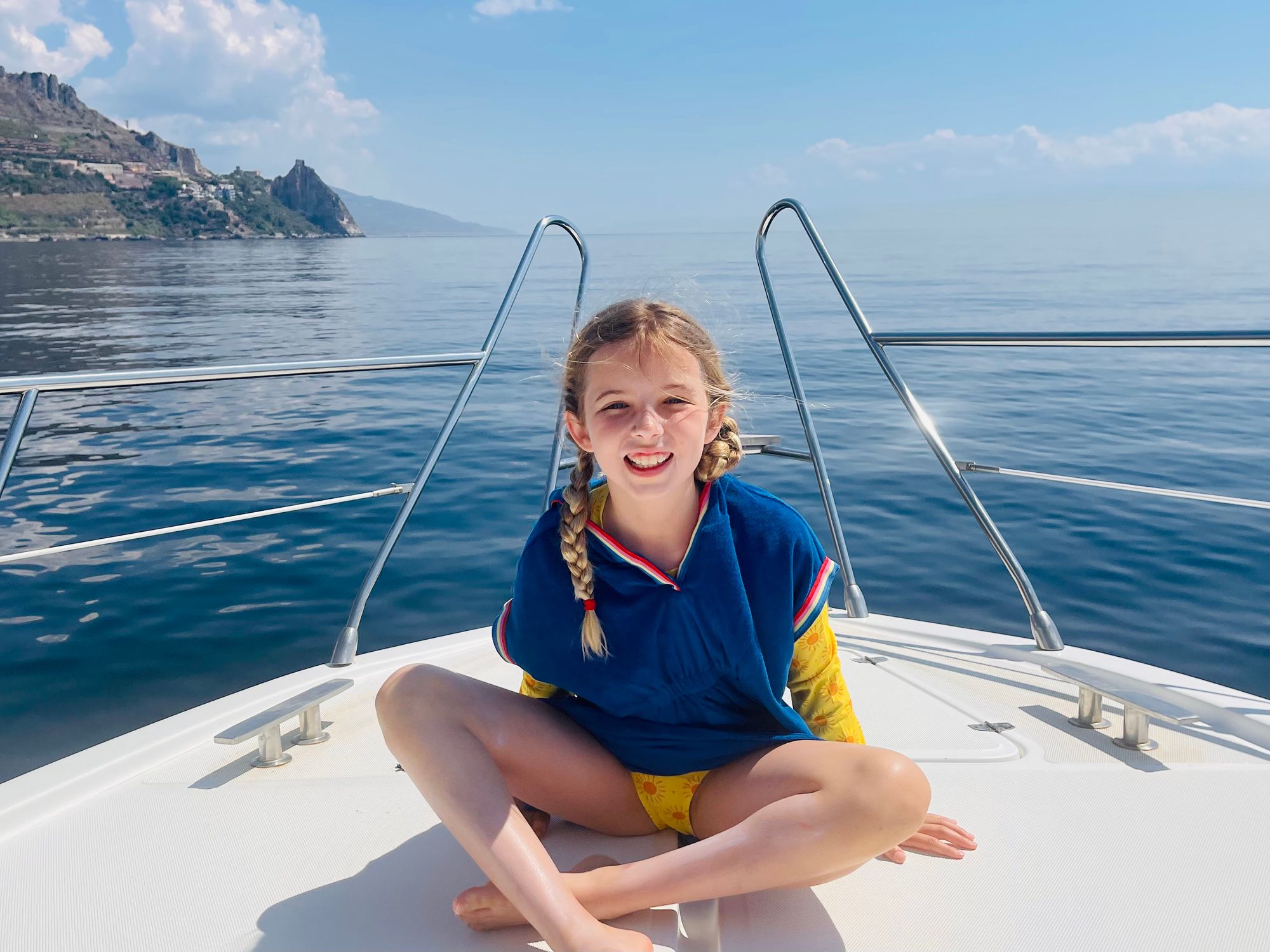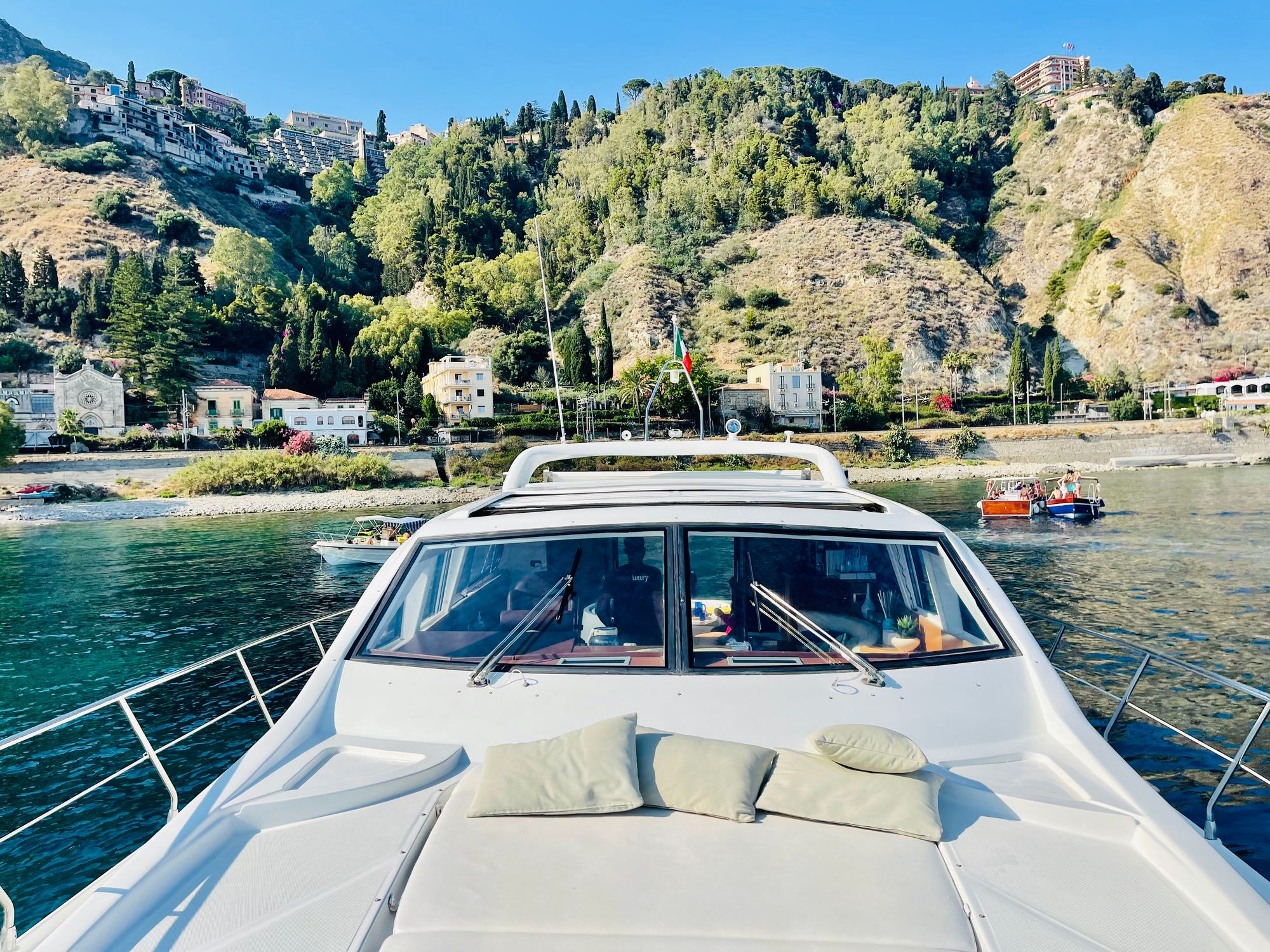 Outside of yachting, our most memorable daytrip in Toarmina was to explore Mount Etna.  
Mount Etna, a UNESCO World Heritage Site, is one of the most active volcanoes in the world with a history of eruptions dating back to ancient times.  The volcano (a stratovolcano composed of multiple layers of solidified lava, ash, and rock) rises to a height of 10,922 feet.  Many visitors coming to see its eruptions and hike on its slopes.  Mount Etna had been quite active in the few weeks prior to our arrival to Taormina, and though less active was still throwing quite a bit of steam out during our time in Sicily.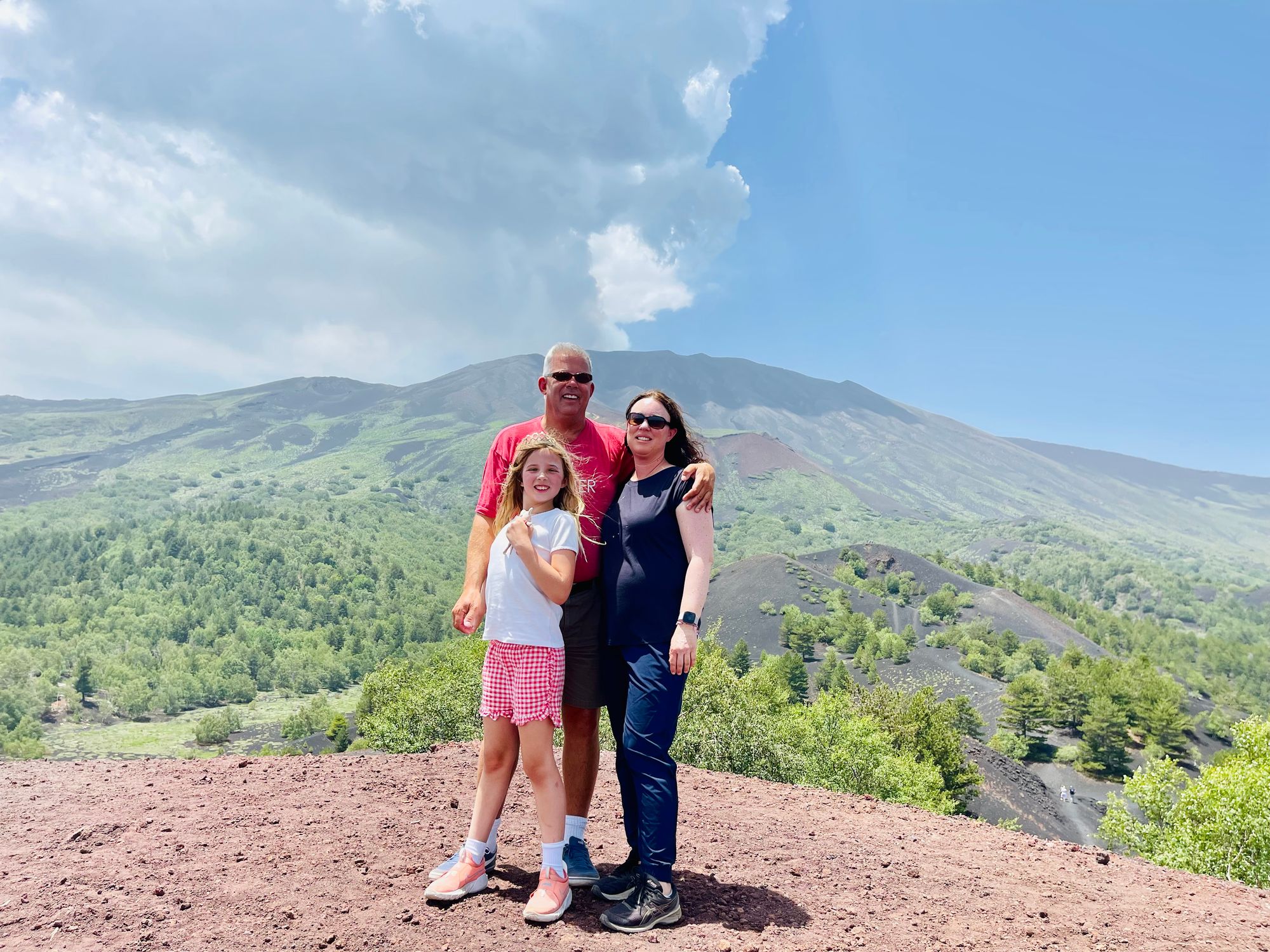 It's a requirement, effectively, to hire a four-wheel drive and licensed guide to go up to the volcano area.  First, some of the roads required it and second, there is actually a licensing requirement given that it's an active volcano.  In fact, we were stopped by the local police and our guide's credentials were checked.  Our guide told us a story of a recent bout of lightning in the volcano park.  At that park, the ground in some places has a very high degree of iron in it - so much to alter the soil color.  Evidently, this iron-laden soil can transmit enough electricity to injure you if struck by lightning.  So, for this and many other reasons, a guide is a good idea and mandated.
Our guide grew up in Catania (the nearest large town to Taormina and the location of the airport you will wish to fly in and out of) and had been leading tours on Mount Etna for some years.  From our hotel, we spent a couple hours getting to the base of the mountain and then slowly climbing, with some great stops on the way.  A particular highlight was a lava tube where you can hike through with headlamps.   We also enjoyed a nice meal high up on the mountain before finally making it to the summit area for a hike and some great volcano photo opportunities.  A solid daytrip all in.

We are huge Taormina fans after our visit.  The biggest plus is that you really get two vacations in one: the seaside resort and the historic town.  It was very relaxing.  The food was incredible.  There are great local wines (especially white wines).  It's an exceptional location for boating.  If you are looking for a resort-style place to visit in Europe, perhaps to break up some city stays, take a good look at Taormina.  A+.