Helicopter Touring South Africa and Cape Grace Hotel - Review - Three Bedroom Penthouse Suite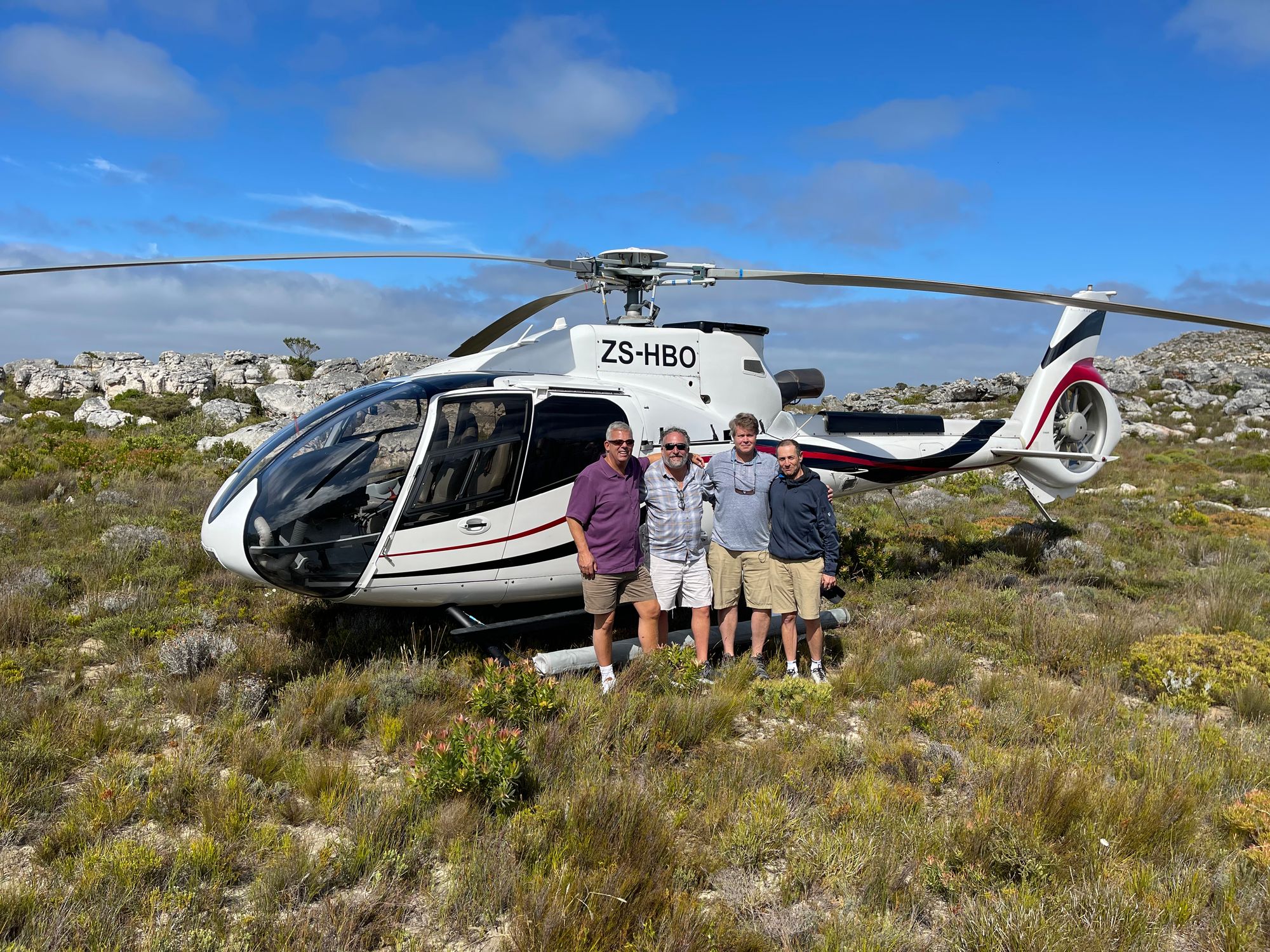 Alone on the Beach recently spent five nights at the Cape Grace Hotel in South Africa in a Three Bedroom Penthouse Suite as well as a nearby Table Mountain Superior Room.  The hotel sits in arguably the best position of any hotel in Cape Town, directly on the V&A Waterfront.  Since its opening in 1996, its hosted numerous dignitaries and celebrities.  More recently, the hotel is part of the Leading Hotels of the World program.
The hotel arranged priority immigration in the form of a van which pulled up right to the stairs of our inbound flight on Qatar Airways, processed us quickly and took us on a 20 minute ride to the hotel.  There are two identical three bedroom suites, the hotel's largest, which abut the end of the hotel directly facing the waterfront.  The room invokes a very classic colonial style, and was well outfitted and attended to.  A highlight is an incredibly large outdoor patio with a retractable awning for shade looking out over the hotel's swimming pool towards the harbor.
As this was our base for a myriad of activities, we didn't spend long days at the property, but in the course of our stay we did very much enjoy the fulsome breakfasts and, especially, the terrific late night food and cocktails in Bascule Bar which offers indoor and outdoor spaces on the property's lowest level right along the yacht marina.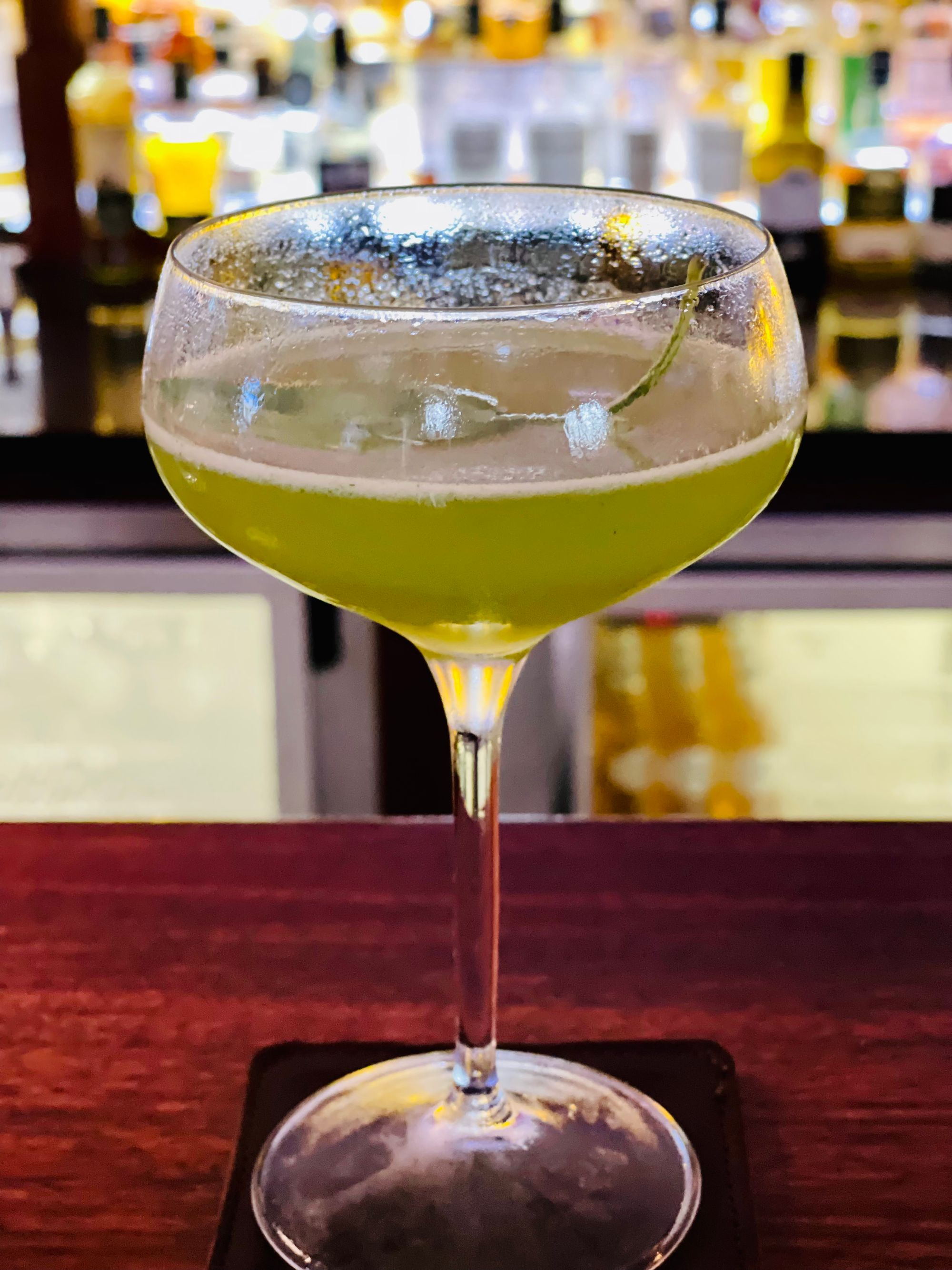 This was a boys' trip, and the first time to South Africa for each of us.  Yes, it's a pretty big hall pass to ask four wives for...but we got lucky!  After 30 hours of travel, though comfortably in Q Suites, and on a morning arrival, we decided a bike ride to get acclimated would help ease the jetlag and give a nice understanding of the city.  Our guide was Steve of Daytrippers who was incredibly knowledgeable not only about a great route to take to gain an understanding of the city layout, but especially of the rich history of Cape Town and in fact all of South Africa.  To cap it off, Steve rightly sensed when it was time to just grab a pub stop for a beer.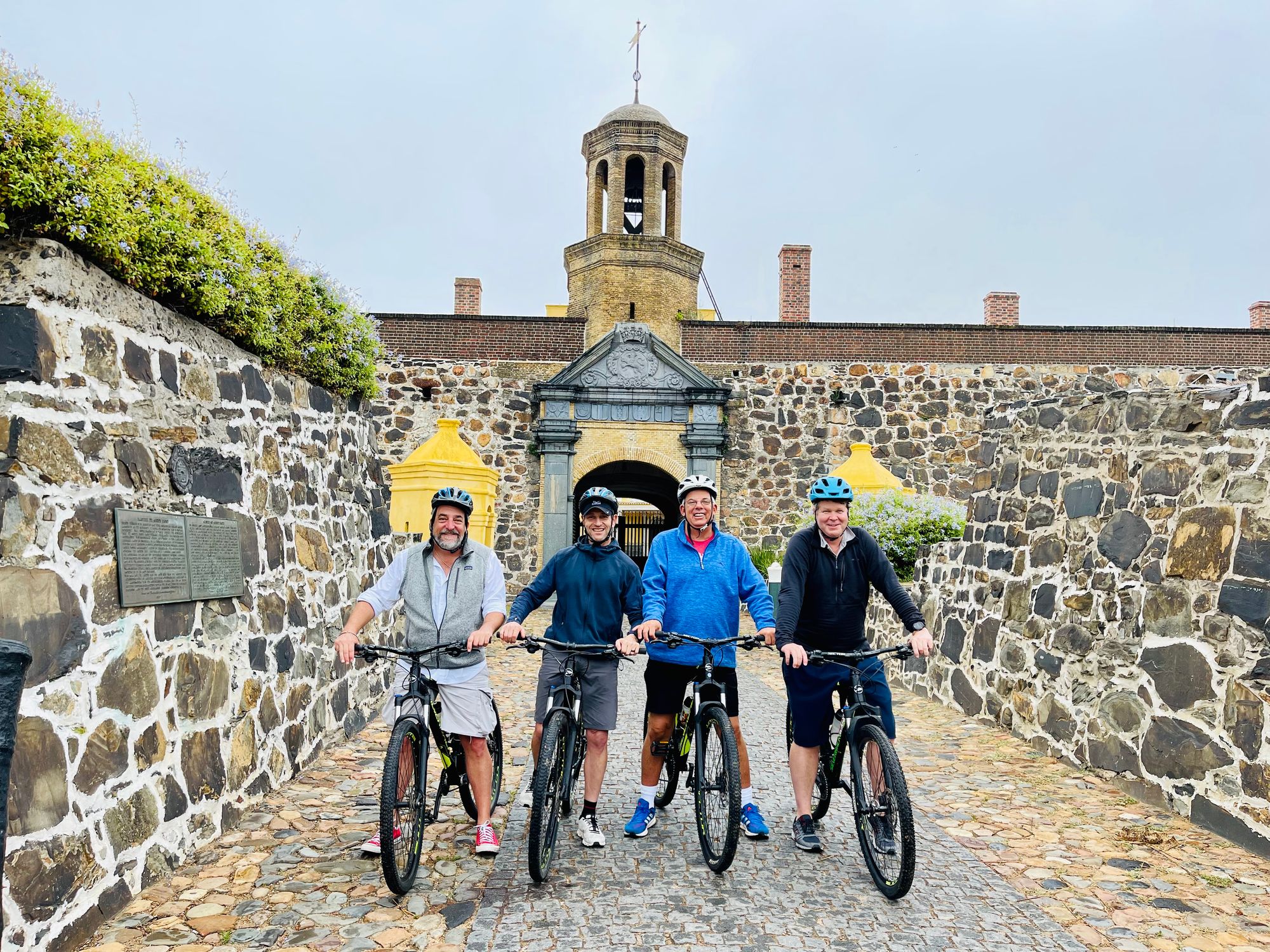 A main purpose of the trip was culinary: we had heard outright exceptional things about the food scene in Cape Town.  The trip had come together during COVID; actually, we doubted we'd take it, especially considering the destination was the epicenter of Omicron just a few months' prior.  But the stars aligned and in the end we were able to travel, no less to a city that had bore the brunt of Omicron and was in a bit of a respite.  So it felt very safe, and in fact, we all were fine throughout and on return.  The point of mentioning this, though, is that tourism was very depressed.  It had an upside for us: we were able to get into some restaurants that are usually impossible to get into, at least without many months more advance planning than we had time for.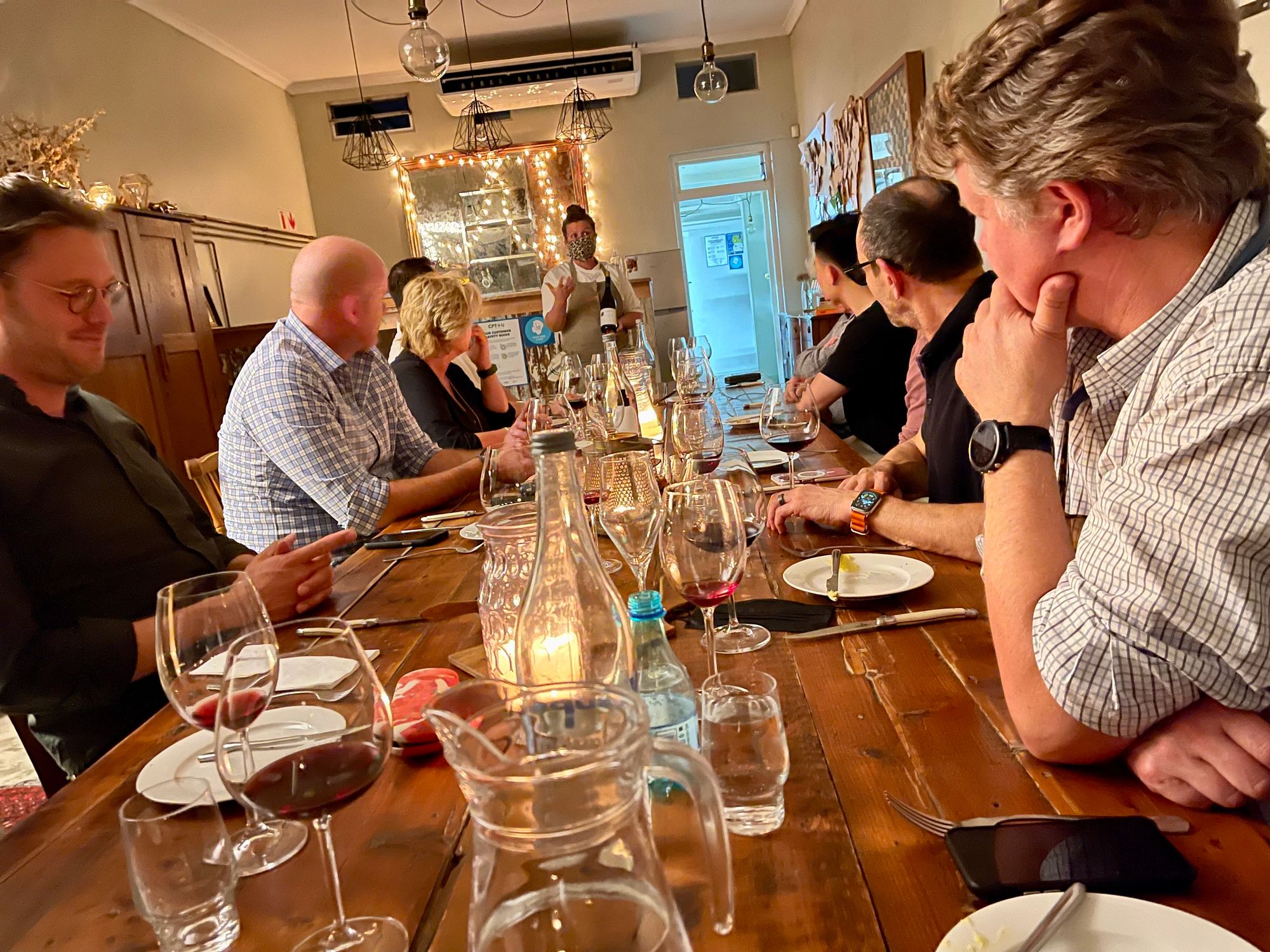 It's very hard to say which of many meals was "best", but if I had to recommend just one restaurant to a friend visiting Cape Town it would be Reverie Social Table.  The venue's advert states the concept clearly: "Each evening, chef patron Julia Hattingh welcomes guests to sit around her bespoke 18-seater table to enjoy a five-course meal exclusively created for them, and accompanied by carefully selected wines.  Guests are encouraged to put away their cell phones and engage with one another.  Perfect for those who love food, wine and great company."
We were dubious, but in fact, it just plain worked.  The food was exceptional bespoke farm to table goodness derived of whatever Julia (between us, below) had found most fresh that day at the markets, and accompanied by wines that not only had no UPC label, but in a few cases no labels at all.  One such wine had a story about Julia and a friend making effectively moonshine late one night and, well, it tased pretty good.  A food course was stood up around it.
We met fabulous people, so different, people we surely never would have come into orbit with but not for Julia's friendly table and quality lubrication.  The retired Dutchman who has a house nearby for a few months a year.  Two gentlemen from Utah who were on honeymoon.  A young couple from Germany riding out the pandemic "working from home" from a Cape Town rental flat.  And so on.  I asked Julia if the concepts works this well nightly - she rightly admitted some nights are more successful than others in achieving the mission of her advert; but more often than not, yes, she pulls it off.  This restaurant is a true work of love and a must see.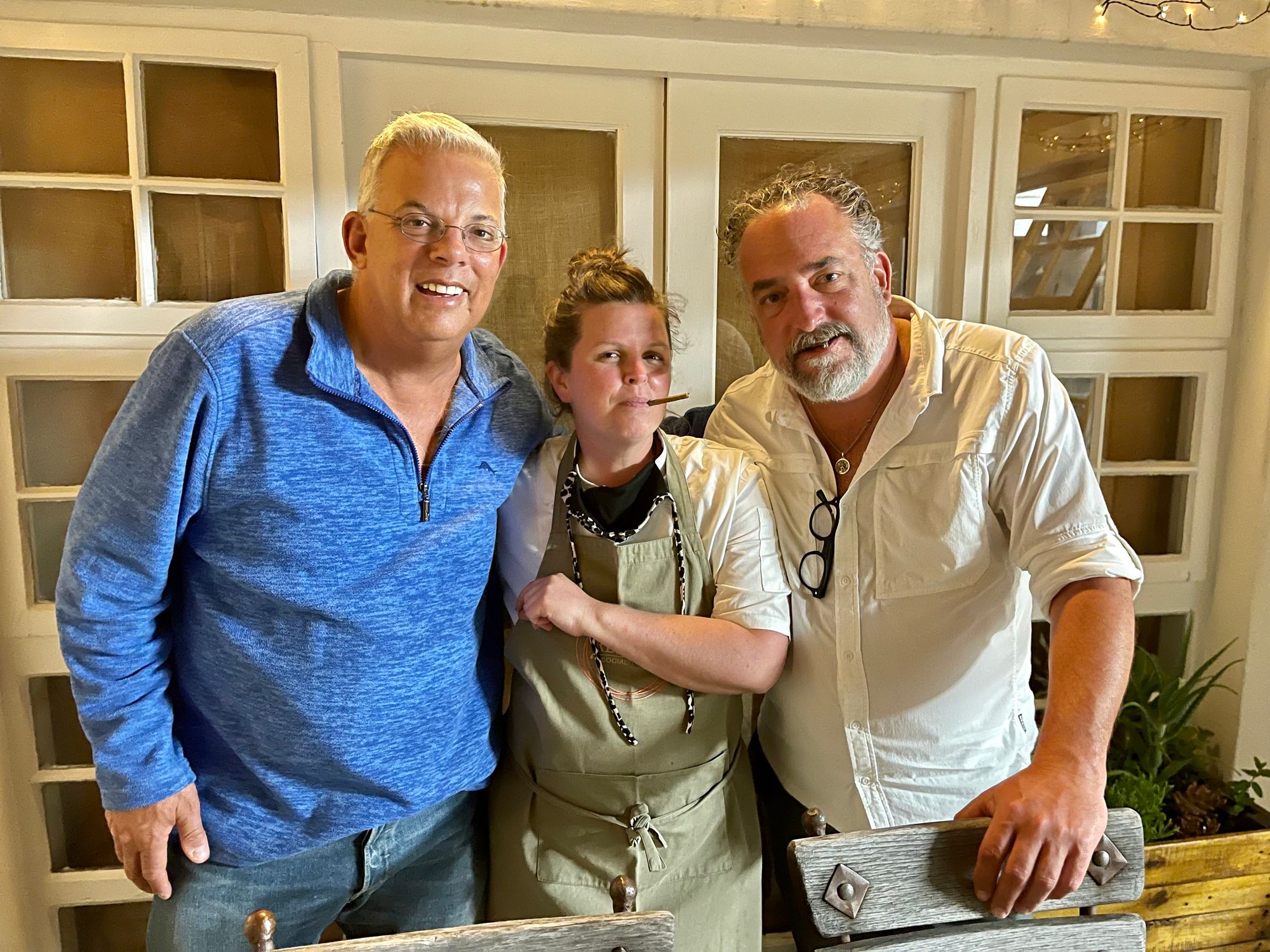 We had a few other great meals.  We loved Belly of the Beast, which you'll find in a few more guidebooks, but also was outstanding.  A multi-course prix fixe dripping with innovation and using, well, just about every part of animals you've never heard of.  The Kudu carpaccio stood out.  We did the very touristy Gold Restaurant, but you know what?  We danced, and so did everybody else.  And the performers were very into it, even if they do it night and night again.  Great "dinner and a show" thing.
After settling in for a day, it was time to start exploring.  We were to have some helicopter trips early on in our voyage, which got shifted to later due to high winds.  Cape Grace was terrific to rearrange everything and after a fishing trip on day 2, on day 3 we embarked on a limousine tour to the nearby beaches, small towns, artisan communes and ultimately Cape Point.  It's a must see, and well worth a day to explore.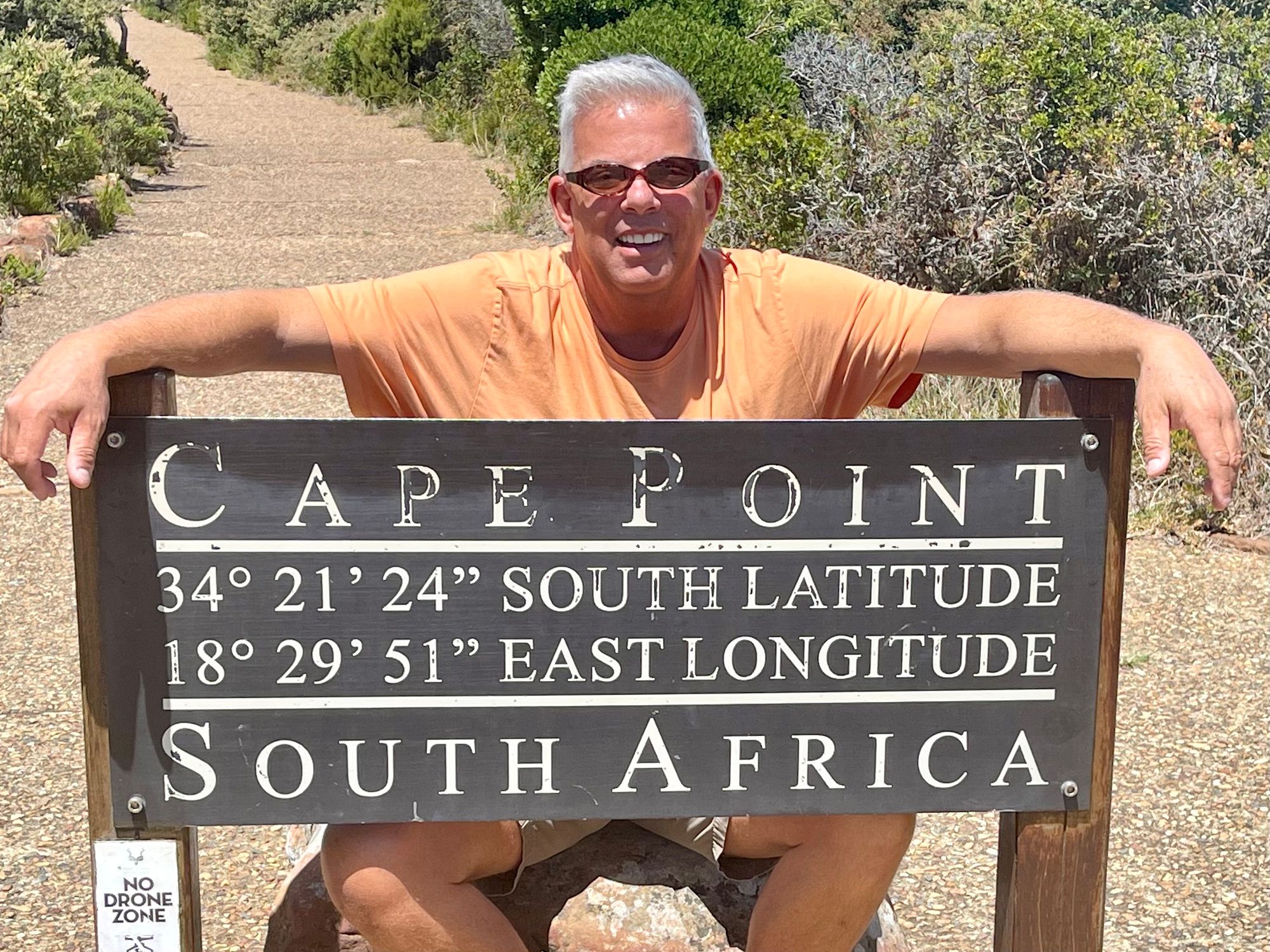 Another day of wind pushed the helicopters out further, and we took the gondola up to Table Mountain.  It's surreal to have something of such natural beauty right there in your backyard, and it's as or more impressive from up there as from down below.  In summertime, I do recommend going quite early as we did: crowds were light, and we were off the mountain and back into town below sipping wine for lunch just as the heat was really ratcheting up.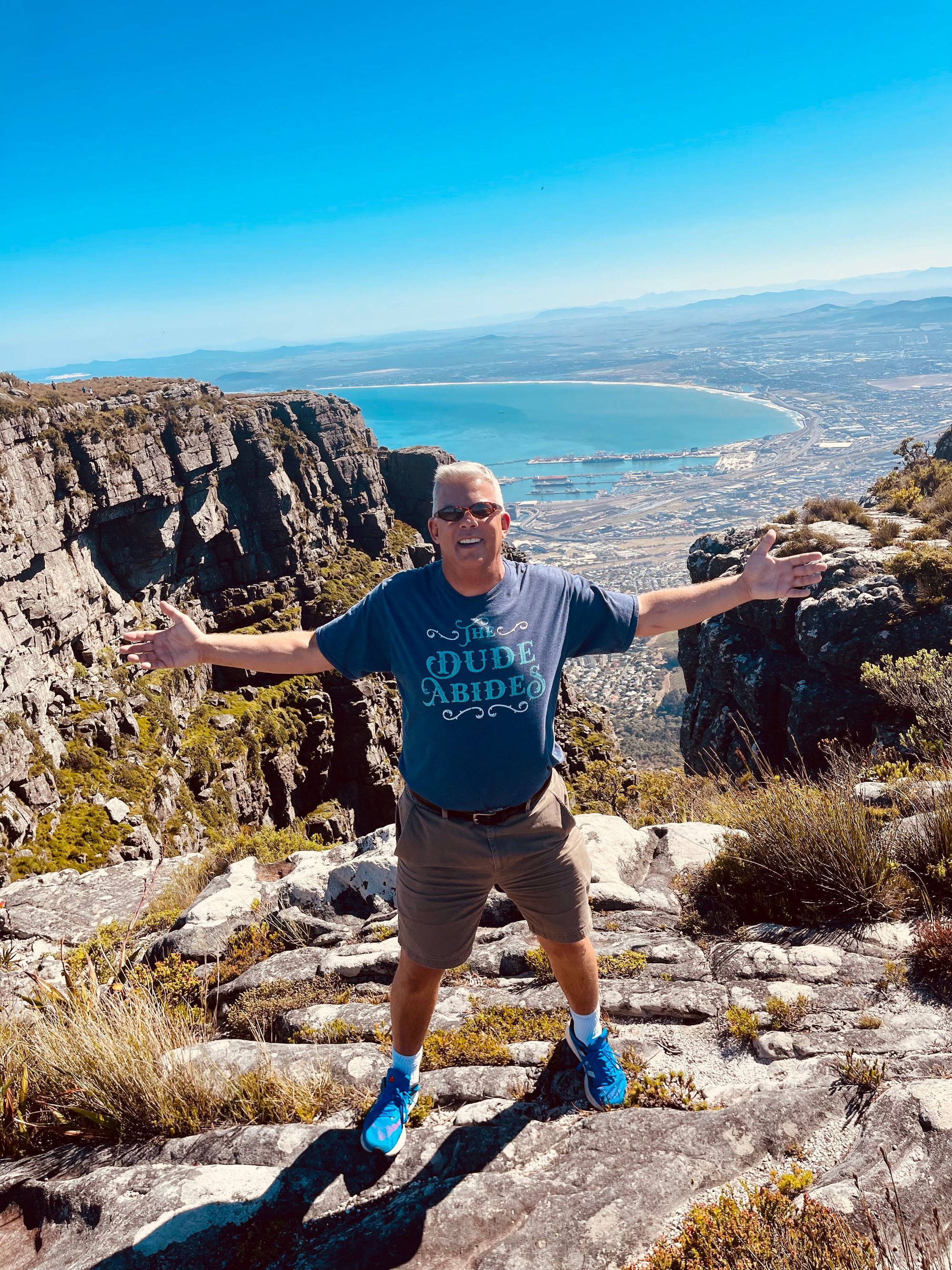 By day 4 the weather was cooperating, and it was time for 2 days of helicopter touring.  I have to give a shout of loudest proportions out to Cape Town Helicopters, their owner Neil Warren, the pilots and their entire team.  After quite some research we settled in on this company particularly because of the modern Airbus fleet, the well thought out full day excursions on offer and the prompt and helpful responses in planning of the owner himself.  Safety was first and foremost at all times, and there was no hesitation to work with us to move everything in real time to account for the unseasonable winds.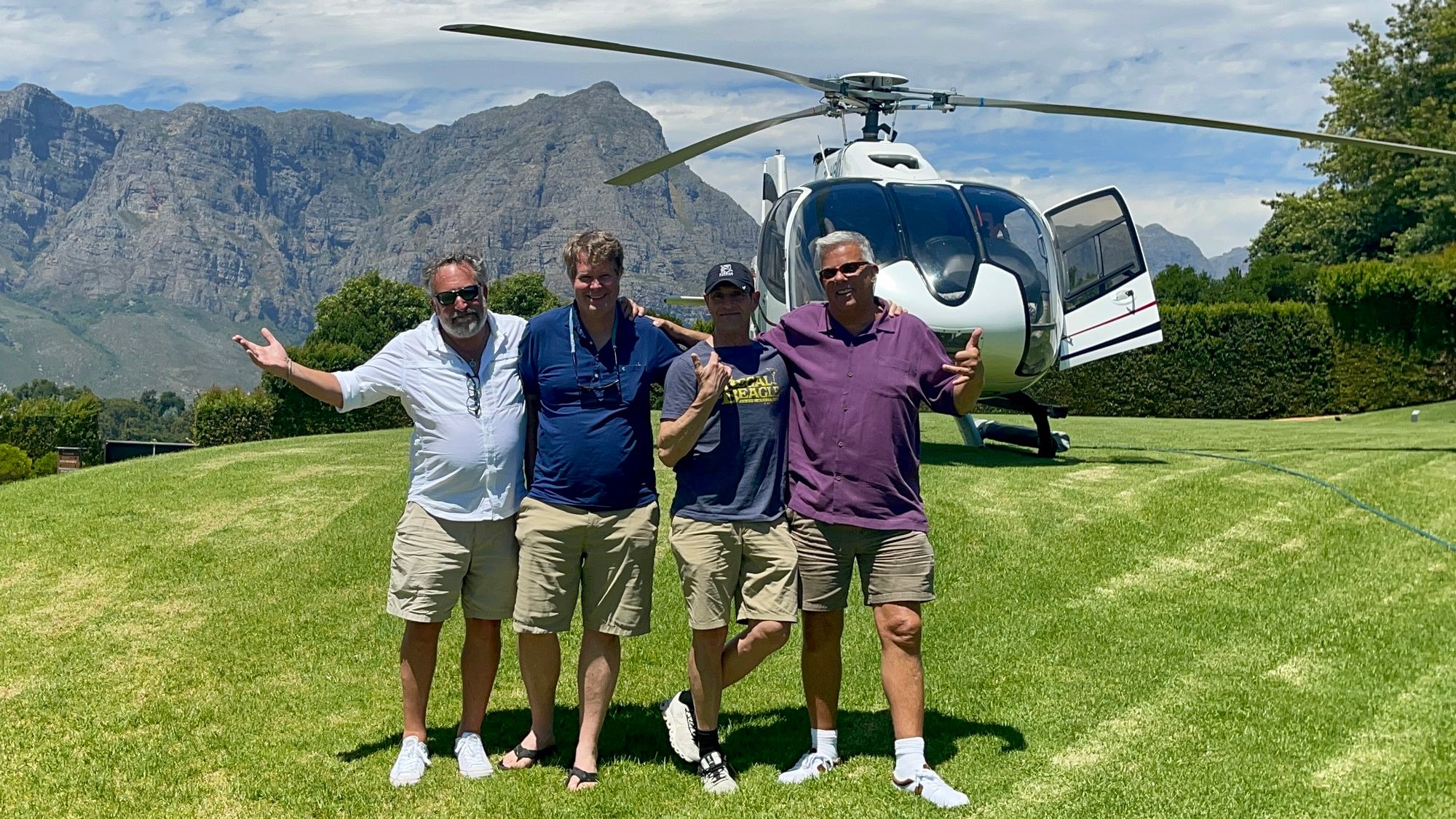 We decided on two very different days in the air.  The first would be to visit wineries, and the second would explore mountaintops and beaches.  For our wine touring day, we visited three wineries all at the helicopter company's suggestion after thorough discussion of our tastes.  The first stop was Loursenford Wine Estate, which is a fairly large producer.  We were taken to a private tasting of some of their reserve wines before a chance to explore their extensive gardens and art galleries.  After liftoff from Loursenford, we touched down just a few minutes later at L'Avenir Estate, which despite corporate ownership is essentially a very small operation, meaning small batches with great detail attention, and also more personal attention for our visit.  It was here we learned the most about wine making in Cape Town per se.  We're from north of San Francisco, so we are up to speed on winemaking; but this region definitely has an interesting microclimate, and especially, interaction with water (what little there is of it at times).  It was a good lesson in production under often difficult circumstances.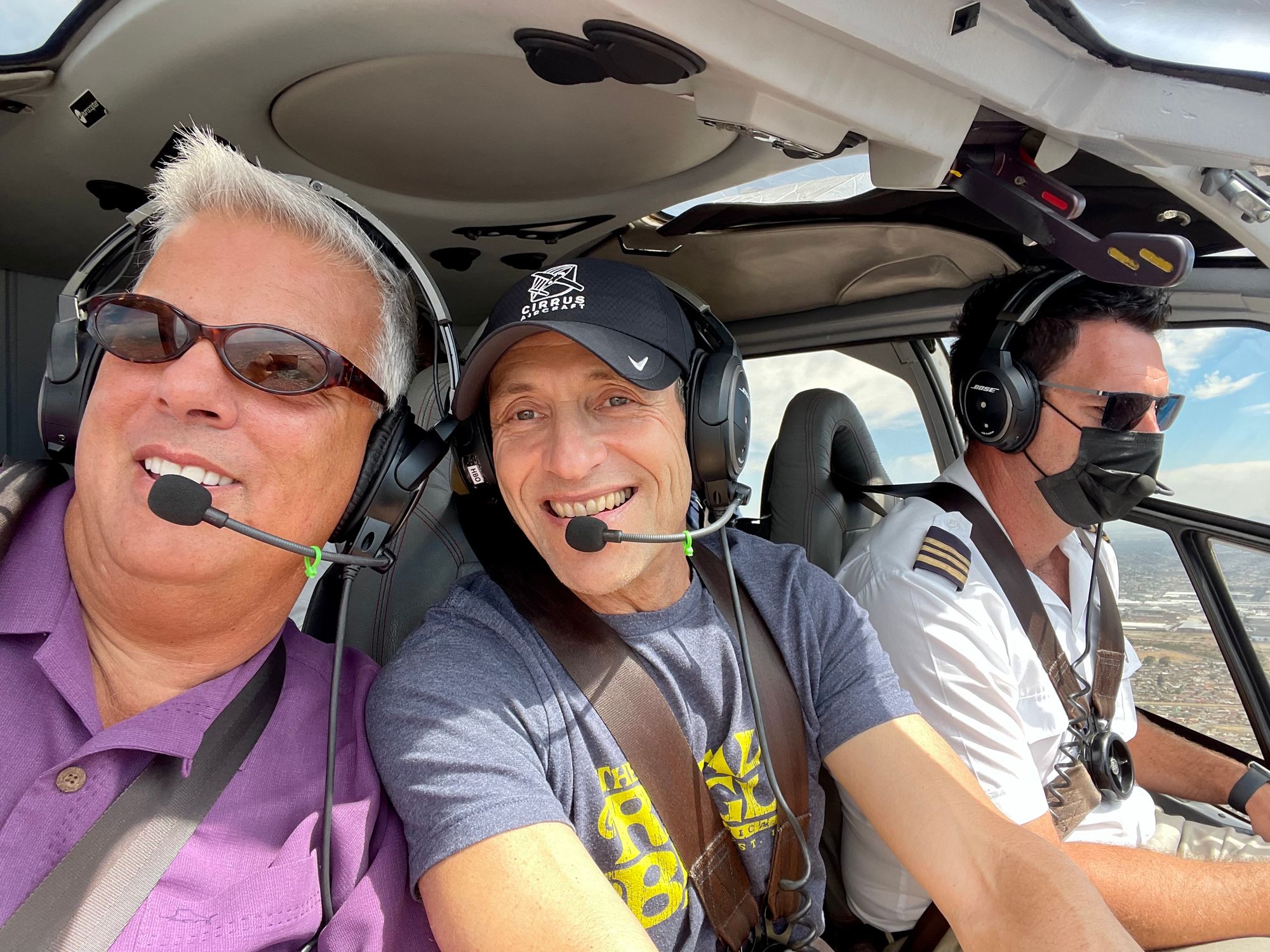 Another short flight took us to our final winery and place of lunch for the day: Delaire Graff Estate.  The hold themselves out as the "jewel of the Cape winelands" and I'd have to agree.  This is a large facility on maybe the most perfect piece of land in Cape Town for wine valley views, with a lot going on.  You are immediately hit by the massive collection of art, much of it huge and in your face - in a good way.  The aura is of a museum that you happen to be lucky enough to taste wine and have a great meal at.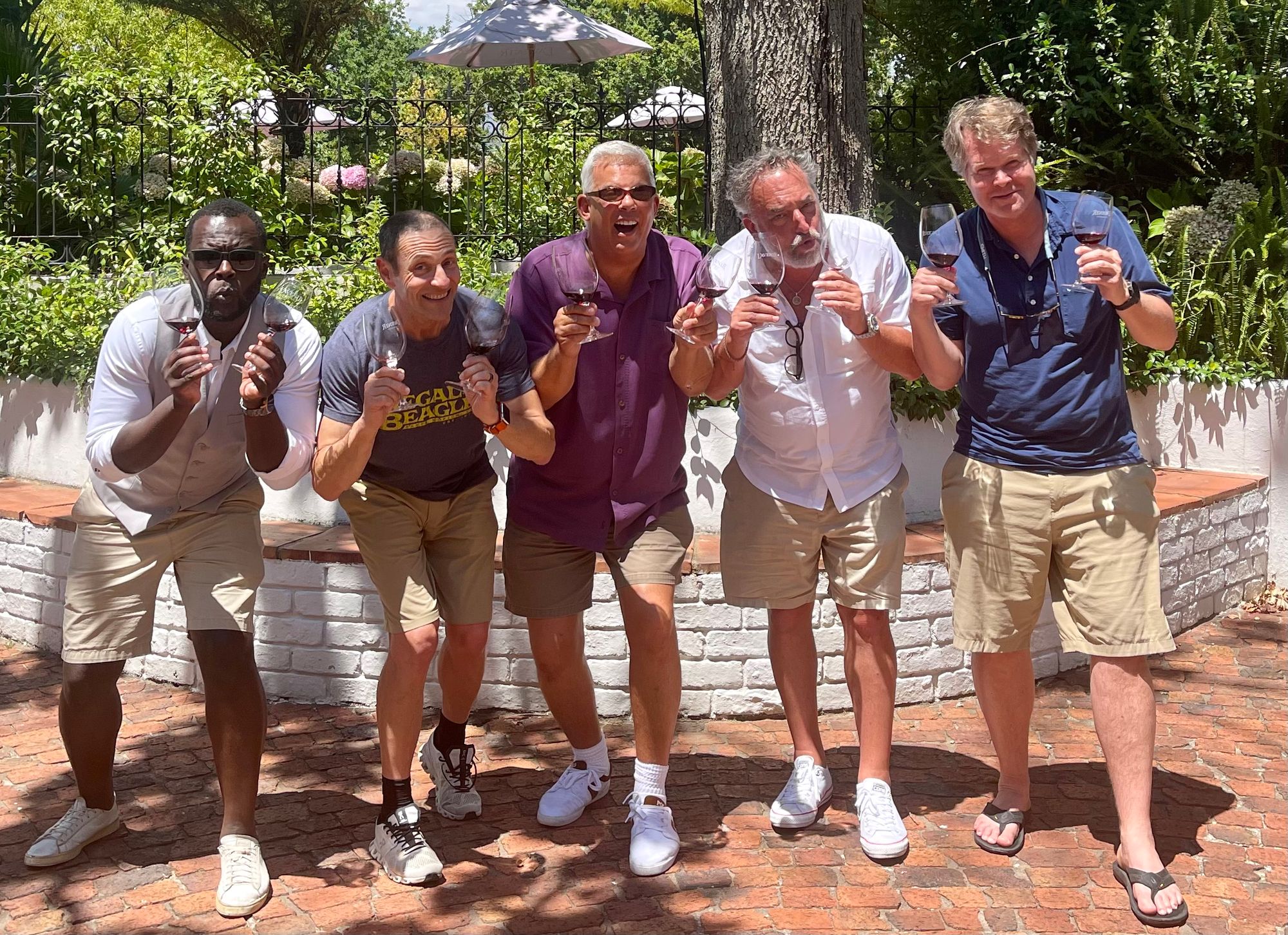 I haven't yet mentioned our guide for the day, Moziara (pictured above, on the left).  A true gentleman and extremely knowledgeable wine guide, who took note of our interests and steered the tastings and purchases in just the right way.  You can see he was not deterred by our exuberant attitudes throughout the day!
Lunch at Delaire Graff was exceptional.  The scenery, pairings, the carefully curated plates; it was truly memorable.  It's such a shame that generally wineries in Napa and Sonoma don't have restaurants (local laws, blah); this was the sort of perfect sit down you can hope for only in the finest places from Marlborough to Mendoza.  Having only been to three wineries in South Africa it's hard to compare, but it seems unlikely that there are many better places.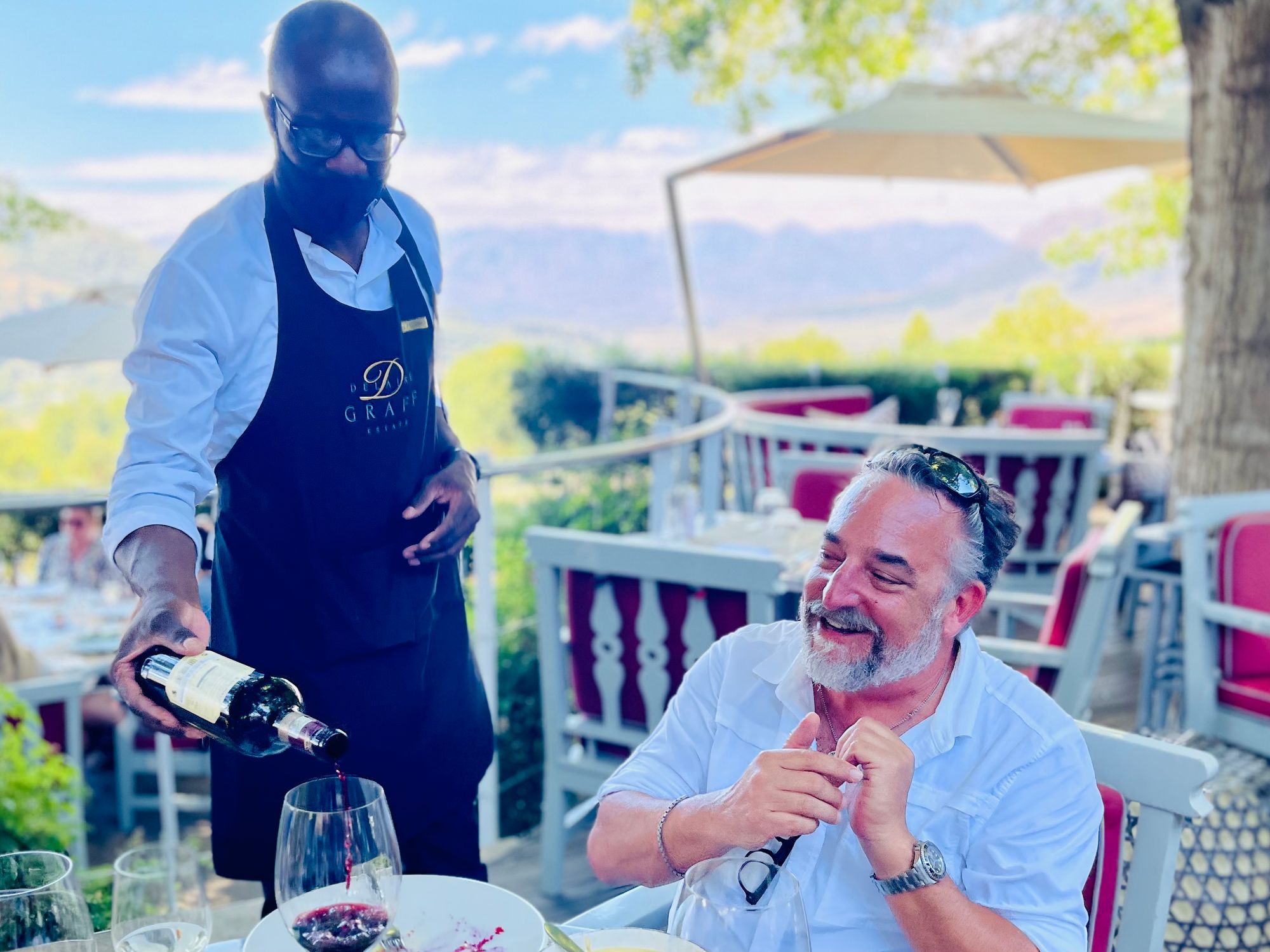 After lunch there was enough time left for a short walk to see the beautiful vineyard scenery, then aboard the Airbus for the ride back to the Cape Town waterfront, except: fog!  So, safety being first at all times in these matters, we diverted to Cape Town airport for a transfer by car service back to the hotel.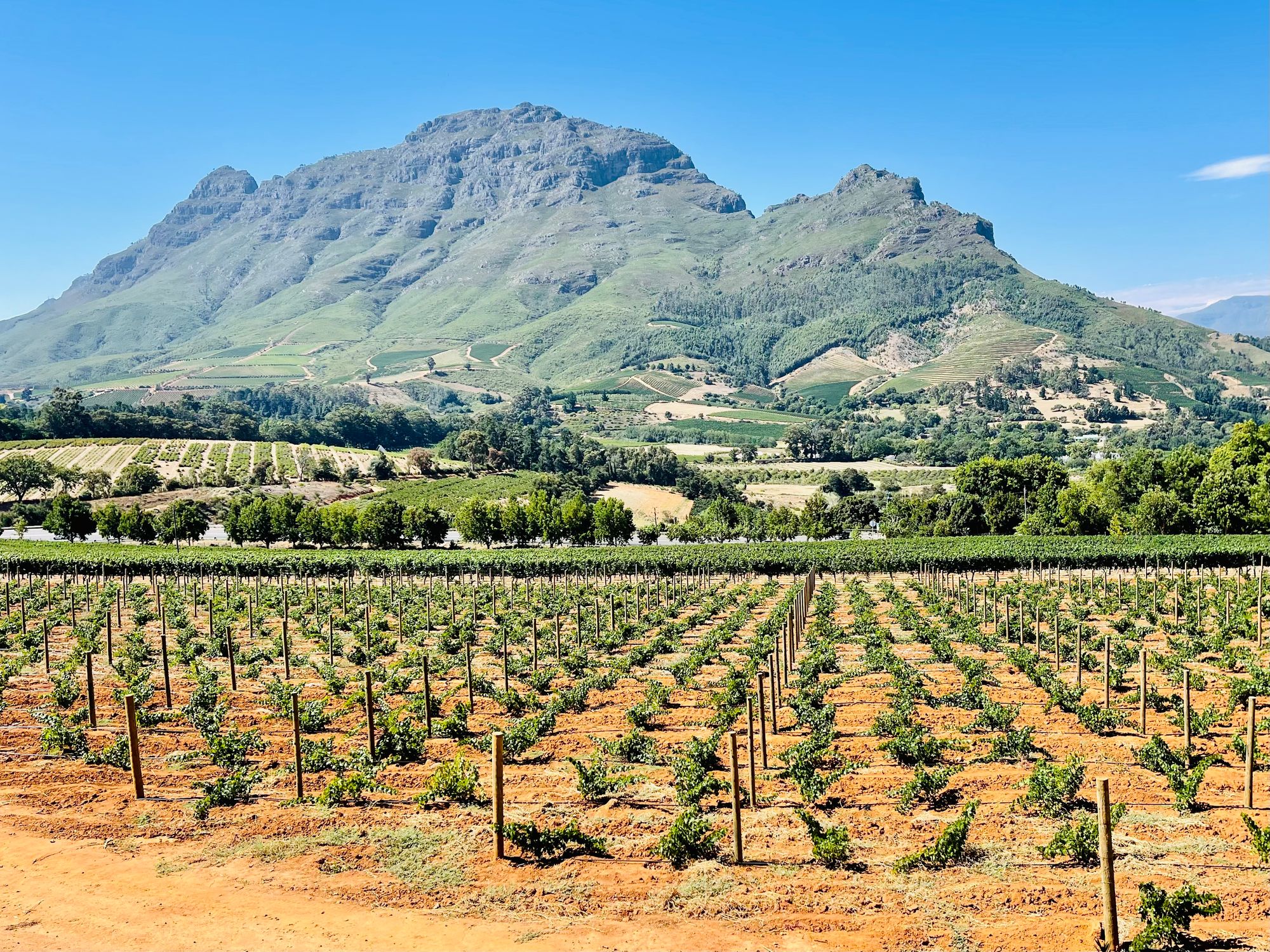 The second day of helicopter touring involved, at our request, putting together two tours they normally do separately into one tour: first, the Fynbos Mountain Gourmet Picnic, and second the Magical West Coast Mussels and Oysters on the Beach.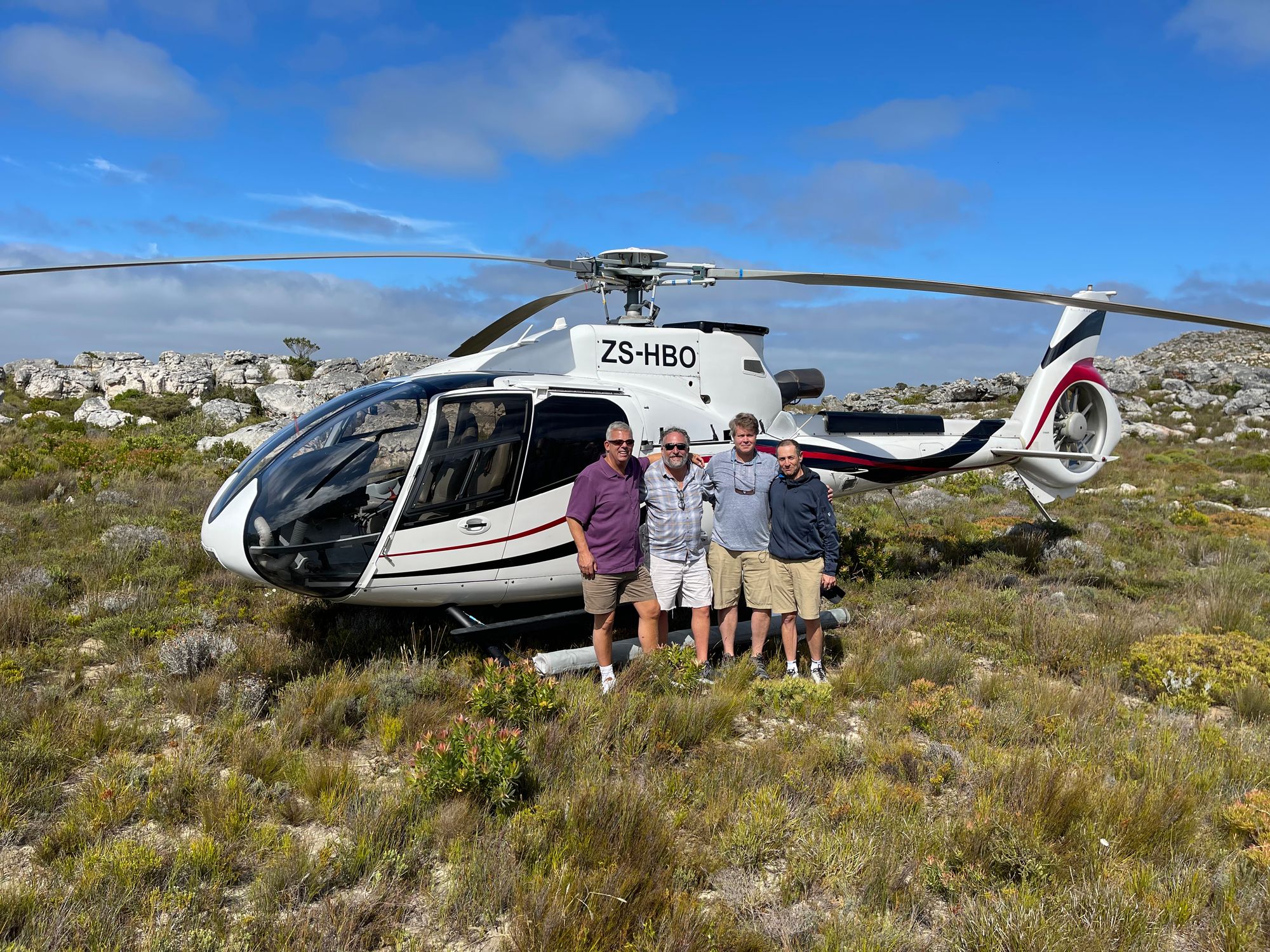 Taking off from the V&A Waterfront near our hotel, the first leg of the day involved flying down to the Cape Peninsula, circling the hills above Misty Cliffs and then a landing on Baskloof Private Nature Reserve.  The reserve is owned by Danielle and Ivan Harris, who have been working for over 40 years ago to restore it to its original natural beauty.  Basically, it is a giant, beautiful private park with views as far as the eyes can see.  It is actually a little disconcerting to land on rough ground (see above), but we were assured they do it all the time and its fine.  It puts you right in the middle of the reserve, with plenty to hike around and see.  There is a small platform with a table and chairs where we were able to enjoy nice drinks with the gorgeous views after our walk.
Then, off up the coast for the highlight of the day - a visit to Saldanha Bay, home to renowned oyster and mussel beds.  We landed beachfront at Blue Bay Lodge and Resort, where we were met by our host Kyle Dods.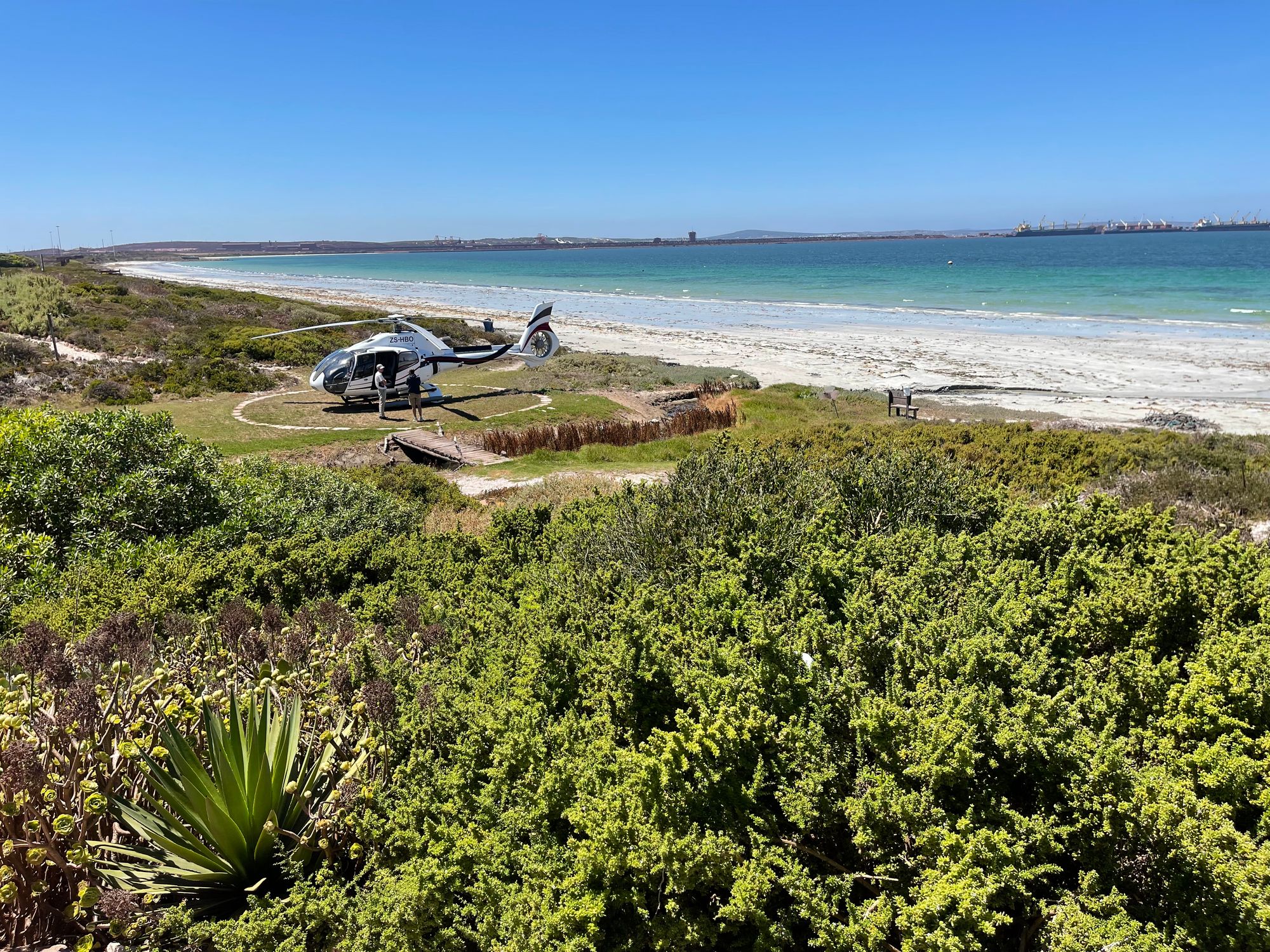 Henceforth, a gastronomic miracle was presented, starting with fresh oysters shucked one by one on the beach and culminating with a mussel boil over hot stones.  In between, we took walks up and down the beautiful sandy beach, wine glasses in hand, with not a soul in sight, returning only occasionally to take part in a new course of food.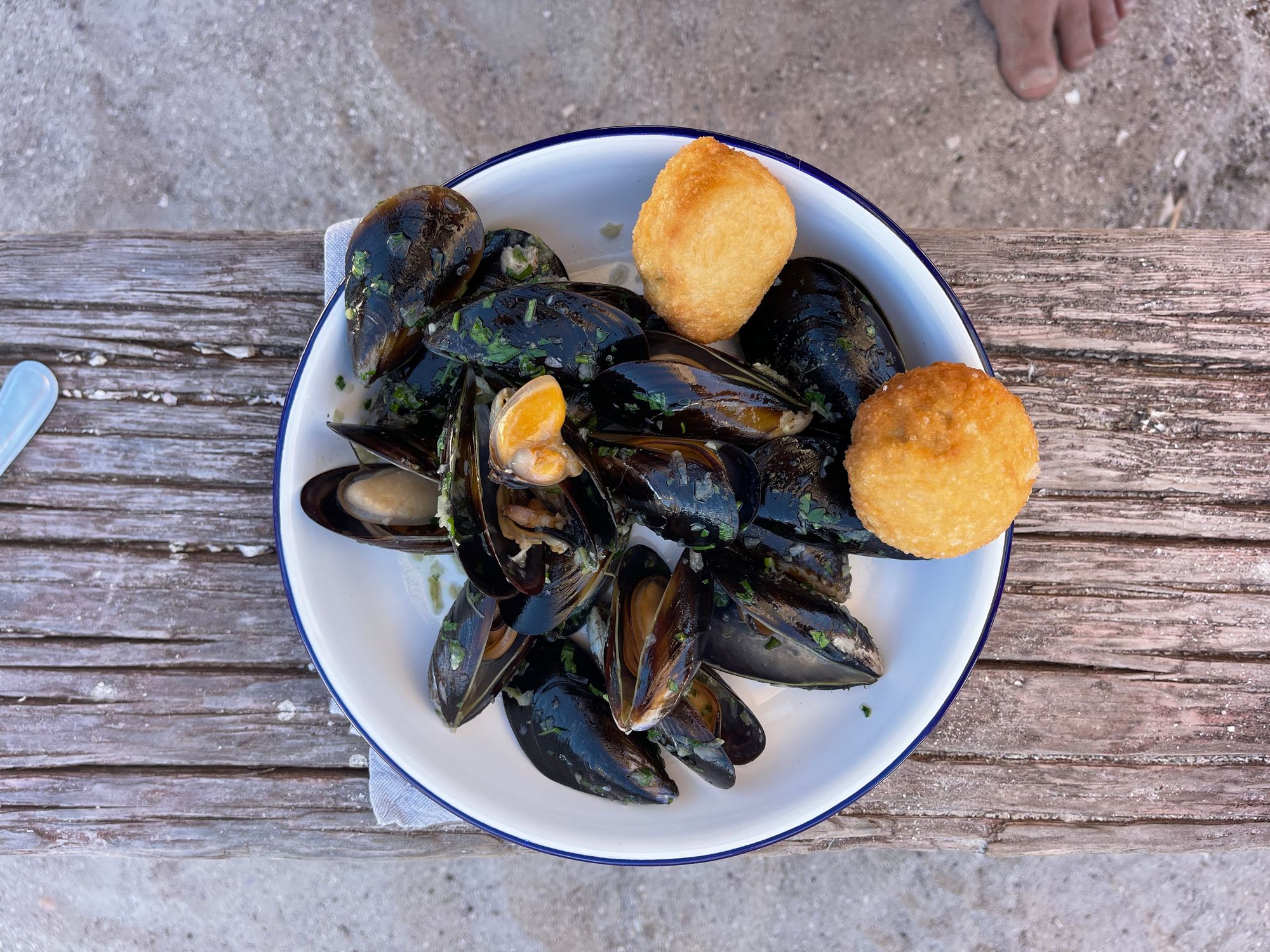 Kyle was a gracious host, and a terrific guy.  An entrepreneur, foodie, guide, ecologist and historian all in one.  We learned about oyster farming, the history of the area, his oyster restaurants and navigating COVID, and more than anything, that what he was doing today, with us, was his real passion: helping small groups tour and taste the best of South Africa.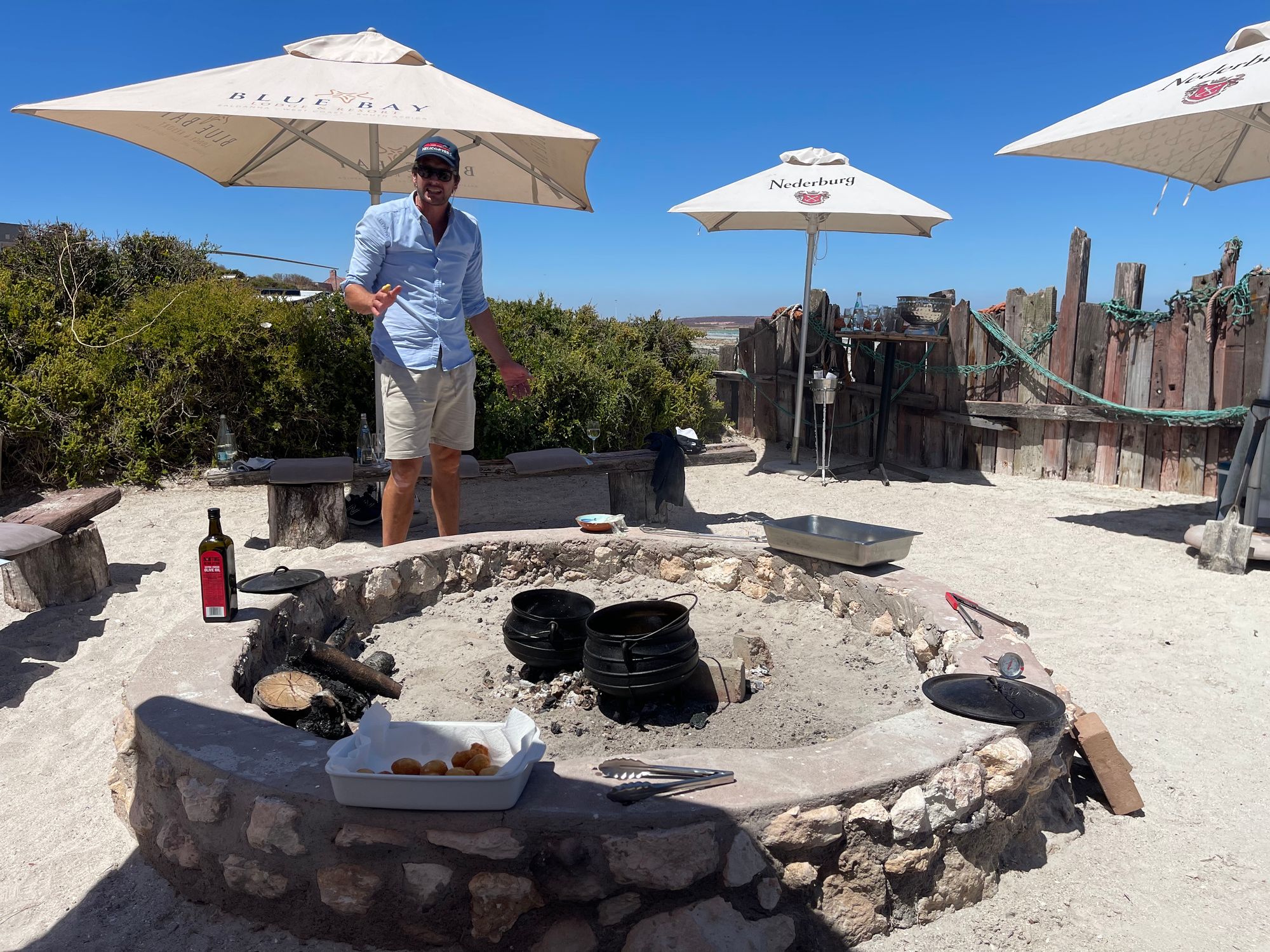 After possibly just a little too much wine and too many oysters, it was time to take off for the flight back to Cape Town.  The company had graciously arranged to fly us straight to the international airport, as we had a tight connection back onto Qatar Airways for the flight home.  It worked seamlessly.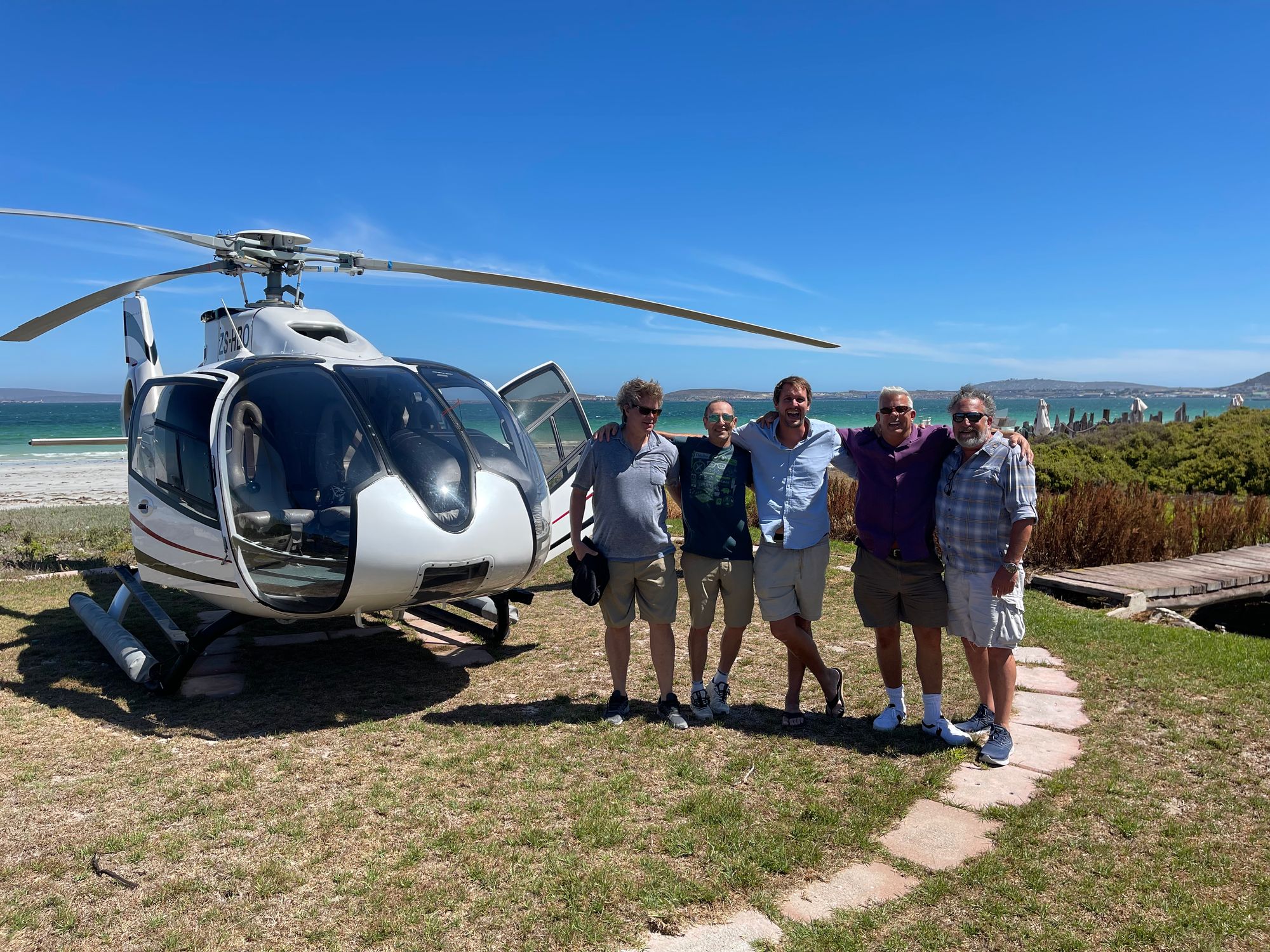 Cape Town was a magical place, very highly recommend!  A+.