Park Hyatt St. Kitts - Review - Presidential Villa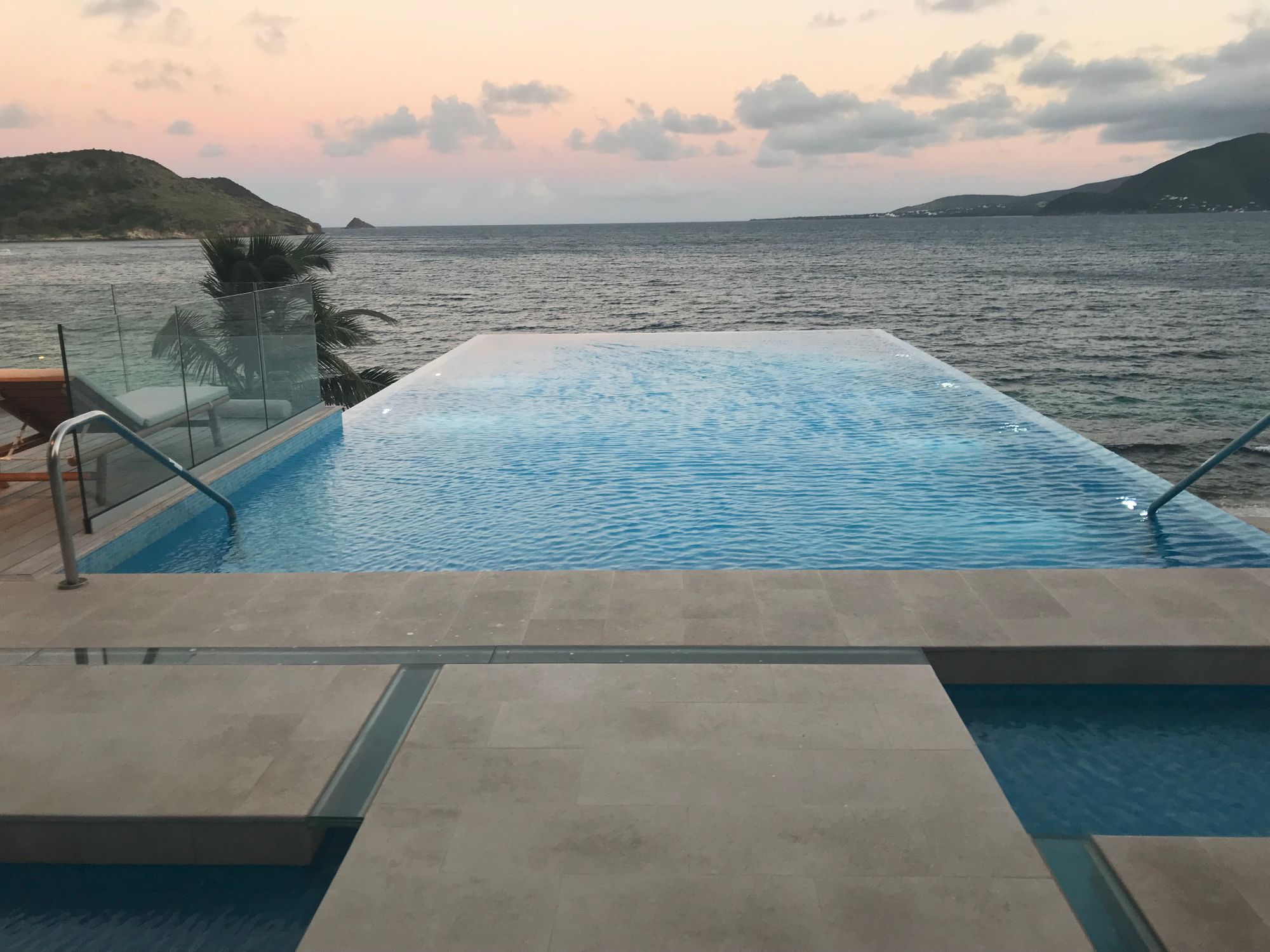 Alone on the Beach recently stayed in the Presidential Villa at the newly opened Park Hyatt St. Kitts. This villa is the signature accommodation on property: a free standing 5,210 square foot house nestled on a secluded beachfront edge of the property, with a private security detail (including guard house), butler, and in-villa amenities including billiards room, gym and a majestic great room opening up onto a huge oceanfront series of outdoor multi-level decks with bar, grill and infinity pool. The views from everywhere you roam, inside and out, focus out onto the azure channel and the island of Nevis in the near distance. Monkeys play right off the decks, seemingly amused and curious at their new neighbors. It's the sort of idyllic solitude Alone on the Beach strives to find, yet with the outstanding amenities of the Park Hyatt just steps away.
We were lucky enough to actually be the first people ever to stay in the Presidential Villa, which had just been released the day before our arrival from the contractor to the hotel for use. It is an outstanding thing; surely, one of the very best (if not the best) rental residences in the Caribbean for those wishing to reside for their vacation inside the grounds of, and with all the attendant things a luxury resort can provide - things you'd have to go off property to find in a residential rental. Both the property as a whole and the villa viewed on its own scored big, really big. For a special occasion – if you can find space between what is certain to be a litany of A-list celebrities "in house" at the villa – this is a splurge worth every penny.
The Park Hyatt opened last fall, after a short delay, to great fanfare. The place is pretty clearly the best, and really the only, true modern luxury resort in the Federation of St. Kitts and Nevis. The only other close contender would be the Four Seasons in Nevis, which AOTB toured (via private boat transfer from the Hyatt's dock - for sure recommended as a departure means for tours of Nevis). While it is nice, due to its age and even geographical location, it just can't hold a candle to the Hyatt.
The Park Hyatt benefits from a low density residential concept: it sets the mood, a spacious place of such abundance that there is no need to use all of it. The property is comprised of 126 accommodations (48 of them suites) spread across 20 acres with 4,200 feet of beach frontage. Separate small three-story buildings are built generally in a semi-circle around the central resort grounds where the pool, restaurants and beach are located. Everything here is in easy walking distance though the hotel is perfectly happy to send a golf cart around any time to take you here or there. We enjoyed the attendant chatter with the locals that this means of dispatch provided for.
The resort has a very open, spacious feeling overall. Even at peak occupancy, the abundance of space, lounge chairs and so forth makes for a completely de-stressed experience. There were never more than a handful of people on the beach during our stay (its hard to peel away from the glorious, huge resort pool), but absolutely, the beach here met the Alone on the Beach criteria we look for in all resorts: a beach within walking distance (here, on property), where you can have the feeling of total seclusion. Check, on that.
The staff was delightful. When you step out of your arrival car and they come with fresh pressed juice, the stress just instantly drips off. In our 8 day stay, AOTB's experience was so strongly positive in terms of service that we struggle to find anything bad to say. A few times here and there, understandable given the recent opening and attendant learning curve, something was a little tardy or, once or twice, missed. But the minor course corrections needed will be easily deployed; and the charm and good nature of the people working here will in the end win out. If passerby golf carts see you, gardeners, maintenance guys - whatever - they stop, have a chat, and see if they can take you on your way. So whatever the opposite of "burned out" is – that's these people. Fired up, big time. This is the kind of place where the biggest stress is dwelling on when you can come back to visit again.
Not one morsel of food or drop of drink was anything but stellar. If you are a "foodie" you will be very happy here. Chef PK and his team have done an amazing job. PK came from Park Hyatt Maldives (AOTB can say first hand, also very wonderful), and has really kicked the ball out of the park here including sourcing very high quality materials in a sustainable manner. This resort takes the small country a notch above anything to come before, so PK had to do a lot of original thinking out of the box – like arranging the best lobsterman in the territory to install traps on the Hyatt's dock, to working with a local chicken farm to build cage free setups and ramp up production to get the required amount of eggs. You don't notice any of this, but behind the scenes, PK has taken great steps to deliver an amazing experience. He's active and around, and very entertaining – so suss him out.
PK's big ticket event, outside of curating special meals for the villa, is a chef's table. Do yourself a huge, huge favor and look into this. You'll be seated in the Great House kitchen watching all the action. It might be you, or you and a small handful of other guests. AOTB isn't going to spoil PK and team's surprise – suffice to tell you that what you'll experience is not just dining but something very interactive. This is a unique experience, that we treasured.
The restaurant choices provided ample variety for a 8 night stay. We had fresh lobsters and fish grilled to perfection at The Fisherman's Village (the lobster, in particular, pulled fresh from those traps I mentioned, was sweet, succulent and overall divine); Daddy and Mommy AOTB enjoyed the romantic small venue setting of The Stone Barn, adults only, with it's fairly limited but highly innovative menu based generally on a farm to table concept. Then there is The Great House, functional for breakfast but equally enticing for dinner. It's large ocean verandas with fire pits and cozy clusters of seats make the perfect spot for pre dinner drinks. All in all, there is something for everyone and really no particular reason to leave.
Beverage wise, stop by and check out Manish's creations at The Great House bar. His approach is bespoke. Manish makes many of his own mixers and bitters, and he infuses liquor with an evident passion. Manish took note of Daddy AOTB's affinity for cosmopolitans, and came up with a saffron infused vodka take on it that was, frankly, competition ready. It was beautiful in presentation and subtle yet sophisticated in taste. If you enjoy cocktails as an art form, the locally sourced and produced drinks on order are going to be right up your alley.
Management during our stay was appropriately present, shaking hands, culling feedback, making the sort of little progress needed post-opening to bring this ship from 99% on course to 100%. AOTB isn't used to seeing management quite so active, and it was appreciated to see the care being taken especially in the situation, a little unusual maybe, of having to take a local staff (93% local, I understand) that is being made to, effectively, "step it up" given that the Park Hyatt far outstrips anywhere in the islands they might have worked before. Hyatt and management seem to be doing everything right in this situation, and the end product showed well during our visit – and likely is still even better, today.
Returning to the topic of the presidential villa, as we progressed through 8 days on property, we fell more and more in love with it. It is so well thought out. A Sonos system allowed gentle music of our choice. Three bedrooms, wonderful beds and linens, space to stretch out. Places to meet and mingle; places for solitude. A corner for everyone. Then, a nod to the culinary: a fairly full kitchen; wine fridges and other necessary things for the oenophile. We were constantly debating where to shower – there are indoor and outdoor options, and we found our favorite places. The use of hardwood and the general good taste of the materials and architecture provided a modern, bright, aquamarine and very appropriate setting for that big picture window – namely, the views out over the infinity pool to Nevis – that permeate every angle of everywhere you might be at any given time. The extra touches abounded; things you can't even really plan for, like those monkeys. The color of the sea migrated ever so slightly as the winds changed direction; night falling brought clouds lined with golden thread. It was like living in a piece of art.
Alone on the Beach Rating: A+