Park Hyatt Mallorca – Review – Granado Private Gardens Suite Complex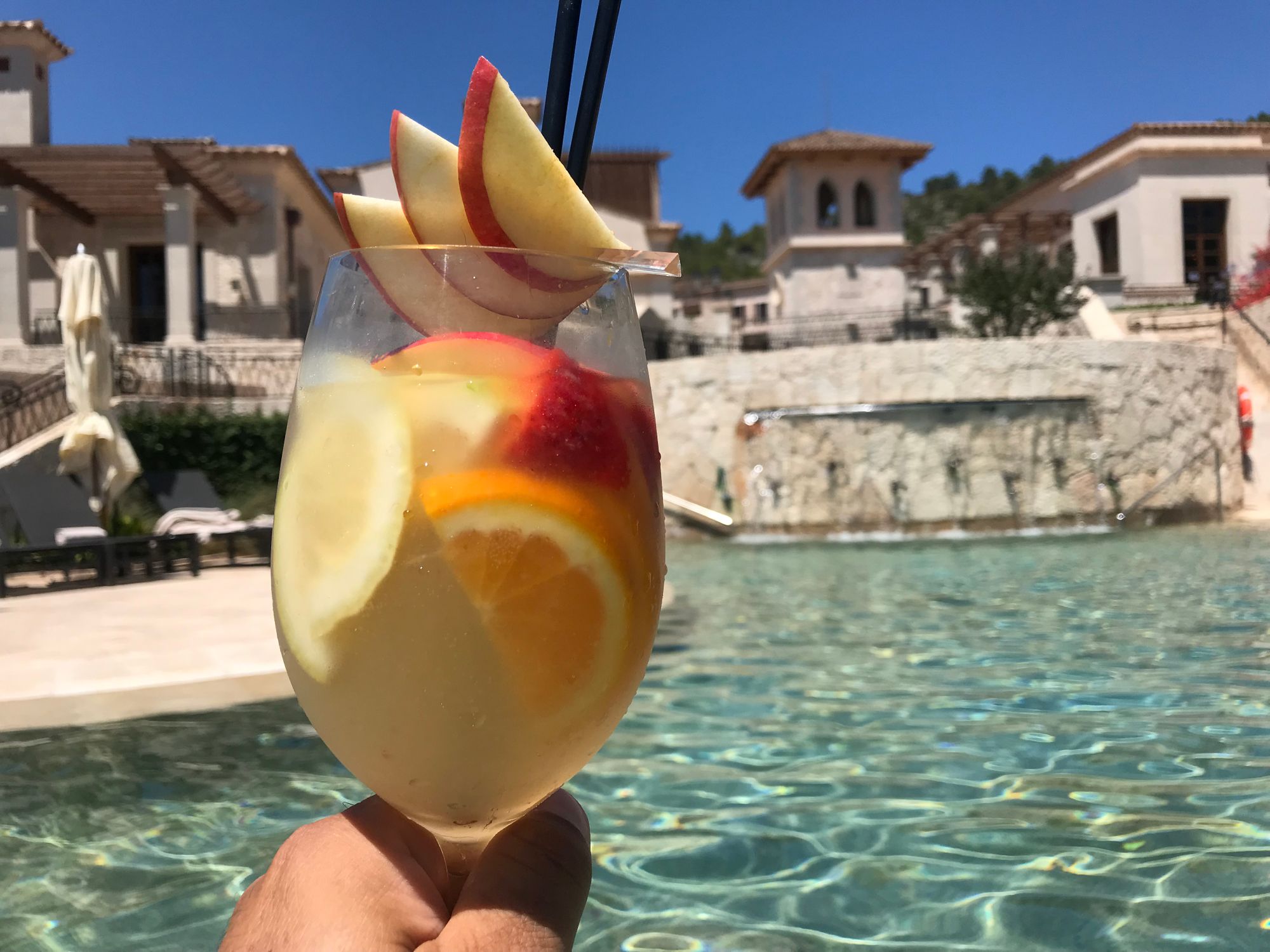 Alone on the Beach recently spent nine nights in the Granado Private Gardens Suite Complex at the Park Hyatt Mallorca in Spain's Balearic Islands. The hotel opened in 2016 and is built as a traditional Majorcan village concept. It is a stunning piece of architectural accomplishment that makes a stay here above and beyond a hotel stay, or even a fine resort stay in light of the feeling of isolation inside this purpose built village community. It is a magnificent property of the highest caliber, and terribly well run, at that.
The property is on the east side of Mallorca, about an hour's drive from "el ciudad", Palma. AOTB's focus on secluded beaches drew us to this more remote side of Mallorca less traveled by tourists and light years away, in tone, from the busy nightlife and crowded beaches of the main tourist side of the island. The resort is in the small town and development of Canyamel and about 10 minutes from a slightly larger, and very quaint town, Arta. The ride out rom the airport was beautiful, through plains in which the island's strong agricultural industry was on display. You enter the gates of the resort and proceed to main square where you disembark at the arrivals building and concierge center which serves as the de facto Town Hall of the village. From here, everything is walking distance inside the grounds augmented by friendly and always-right-there golf cart rides as needed. The hotel is built on a hillside, and we lazily fell into a habit of "golf cart up" and "walk down" which the resort's many drivers happily accommodated throughout our stay.
Surrounding the main village square are a variety of restaurants, all of which were delicious and in their variety provided ample choices over our nine days. Though there are some special events now and then, generally there is Balearic for breakfast with a full menu and an ample buffet, and lunch at the poolside or at Café Sa Plaça, which has cool indoor seating and a cozy outdoor terrace overlooking Town Hall. Notably the latter has an excellent lobster and burger day weekly. We were also able there to pick up nice foodstuffs to take home: Mallorcan olive oils, salts, marmalades. The gracious hostess went so far as to set up an elaborate olive oil tasting so we could taste the options, which were many.
Both of the two dinner venues offer indoor and outdoor dining, split by a giant and exquisite outdoor plaza filled with mature olive trees of equal proportion and spacing. The effect is dramatic, by day and much more so by night. The space is tranquil and serene as if you are at the village's outer boundary next to nature. The view is across the valley and to the hills in the background, and at night the sunsets fragment the sky with hues of oranges and yellows, juxtaposed against the green olive trees. It is simply a gorgeous space. Sometimes there was soft live music and other times just the sounds of the crickets and a few nearby tables. On one side of the terrace Tapas, which became our favorite, brings small items in keeping with its namesake, as well as, most notably, items sent to you on hot ceramic plates on top of flaming charcoal coals served individually or sometimes in larger setups if there are a couple orders of the same thing. The fresh squid and the Iberian pork were our favorites though the mature beef was not far behind. The seasonings were complex and it was fun to do the "finish cook" to your temperature table side. The second restaurant, Asia, featured basically a pan-Asia approach with items hailing from Japan, Indonesia, Thailand and so forth. A visiting sushi chef from another Hyatt property set up camp for 3 months during the course of our stay. We got the feeling the menu rotates in this fashion over time. It was delicious if not local in nature and provided a great diversity for a longer stay.
The pool complex is three levels – a main family friendly level with large pool that our three daughters made good use of (and a kid's pool for our little one). The weather was great and there were plenty of places for sun or shade. The walk up bar featured cold draft beer, innovative cocktails and the best – Sangria. These little jars of Sangria were actually available resort-wide and were they special. We preferred the white and Cava, and a classic red was also available. Filled to the brim with fruits and the high quality of the wine burst through the flavor. Great for a hot day or a long night. An adult pool and Jacuzzi level rose above the main pool deck by way of meandering walkways. Tucked into nooks and crannies here and there are a few little private areas with a couple chaises, all of which offer really nice privacy. A 24 hour gym is nearby and there is an entire health club at the base of the hill you have access to.
This then gets us to our lodging, which we were extremely pleased with. The resort is built as a series of mostly 3 story small buildings arranged basically in an upward sloping semi-circle around the plaza and common grounds. Each is named; ours was Granado. There are really two basic options to consider: to be on a higher floor with nice valley views, and balcony access, sometimes extensive (some even have hot tubs); or, as we opted, to be on ground level with private gardens.
By private, I really mean private which is what pushed us to this option. We had rooms 91, 92, 93 – 92 a large suite and 91/93 deluxe park rooms. They all shared a single, completed walled off and inaccessible other than walking-through-the-rooms garden. The privacy and seclusion were key, but parents take note: with this arrangement, it is really "Fort Knox" for your kids. They had a lawn large enough to throw a Frisbee on and there was absolutely no way in or out for them (or anyone trying to enter) without breaking out the rappelling gear. And all this seclusion and safety is before I get to the design of the gardens, which was immaculate. It truly felt like staying in Versailles. There were numerous topiaries well maintained in perfect circles, overflowing white roses, a well-manicured lawn, vines growing on the fence for added privacy and even with the season's first grapes starting to bear. With the late dinner time in Spain, one of AOTB's favorite times of day was between end of pool time around 6 and dinner at 9 – total serenity in the garden over a bottle of wine while the kids relaxed. AOTB highly recommends this setup over higher floors for families.
This terrific little Mallorcan village thus was ably suited as a base camp for nine days of activities which is really what AOTB came to seek out. Highlights were horseback riding, exploring the beach at Canyamel 5 minutes away by hotel shuttle, dinner in Arta, the nearby caves and castles. There is so much to do historically and recreationally and at no time did it feel crowded or overly touristy.
But being AOTB, we had to seek out our secluded beach! To this end, twice, we chartered a yacht through a most excellent outfit – Charters Llevant in nearby Porto Cristo. International license in hand, we considered taking a boat on our own but in the end opted to have Tomás, the owner, take us around. This was a great decision because he is a true mariner – his stories of sailing and boating and fishing and swimming and his Dad taking him to private coves go back to boyhood. So, Tomás knows his stuff. Our craft both days was an exceptionally comfortable and well equipped Menorquin 145 clocking in at 14 meters or about 45 feet. It had a great solarium up front, a flybridge and a diving platform off the back with plenty of space for the water toys. Exiting the well protected harbor, we spent our first day "taking a right" and our second day "taking a left" enjoying different parts of the nearby shore. Coves abound, some rocky some sandy, some beaches secluded and some with bars and bathers, but the water always soothing, cool and pure aquamarine. Total AOTB bliss!
The stay was exceptional in all regards: a beautiful property, a relaxing and gorgeous part of the Island, great food and drink, and lots of exciting activities. A true European destination resort that delivers in every way.
AOTB Rating: A+