Park Hyatt Maldives - Review - Park Sunset Overwater Villa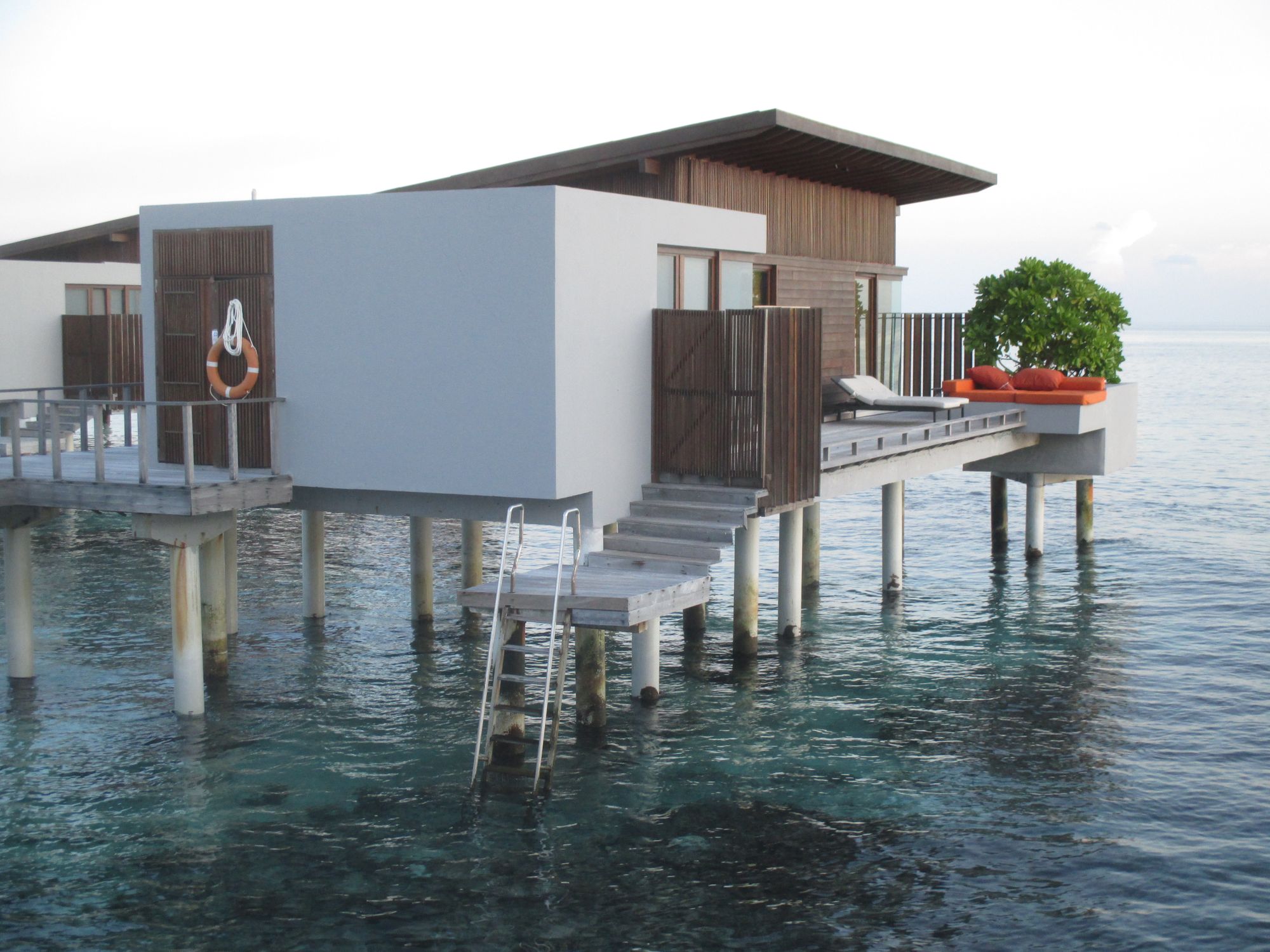 Alone on the Beach recently stayed in the Park Sunset Water Villa at the Park Hyatt Maldives. The hotel was built and opened in 2009 as the Alila Villas Hadahaa, and rebranded as a Park Hyatt in 2011. The resort is on a small private island accessible only by boat, and is home to 50 villas – 14 overwater off a single pier, and the other 36 scattered around the perimeter of the island.
The Park Sunset Water Villa – this designation applies only to one villa – is at the far end of the pier; as such, it is the most distant from the shore of the island, and also the most private. Without interruption, from every angle inside and out, you stare off into the distance of the turquoise seas. The only thing which gets in the way is passing marine life and, quite appropriately given the namesake, postcard perfect sunsets each evening.
The villa in question is referred to in various press and reviews as the "presidential villa", "honeymoon villa", and so forth, but we'll use its proper name, especially because it is worth noting that there are a few contenders for the best villa on property. First, when AOTB visited there were pier stubs erected at the end of the pier, effectively creating a sort of "Y" shape, and we heard that there may be plans in the future to build an even larger overwater villa to share the end-of-pier space, so stay tuned. Second, just by pure size and ignoring opulence of the view (the Park Sunset Water Villa is not larger than any of the other 14 overwater villas, each at 1,238 square feet), there are 2 significantly more sizeable villas on land: the Deluxe Park Pool Villa (2,852 square feet) and the 2 Bedroom Park Pool Villa (3,229 square feet).
Size aside, there is something really magical about being overwater, and then at that, having unobstructed views to sea as far as the eye can wander. The villa has a small sound system, but AOTB flew in a stereo pair of Sonos Play 5's. The villa is private enough and muffled by the sounds of the sea crashing here and there, that there was no issue with, ahem, "volume". So each sunset, over some nice wine, we launched into our playlist and kicked back. Thank you, Mark Knopfler and Dom Perignon. We really were at the end of the world.
This last comment, meant more spiritually than logistically, applies in that latter way, too – certainly for us, from San Francisco. We caught the Emirates flight to Dubai, made our way through an 8 hour layover by use of a burner room at Park Hyatt Dubai, then connected onward to Male. From there, we hopped on a Maldivian airlines mini-jet to Kooddoo Airport in the country's south. The final step, subsequent to being spirited by golf cart to the adjacent dockside, was to embark on one of the Park Hyatt's private speedboats for tender to the island. Despite the comfort of Emirates' "suite class" most of the way, the shower in the sky and all, the whole thing was a big ordeal in terms of time, obviously less so if you're coming from closer nearby. To us, it was a trade-off well worth making; but one should take heed of the steps involved in arriving.
The small caveat of transit time duly noted, everything about the distance melts away promptly when you arrive and realize that you are in a little playground of an island all to yourselves. Yes, there are the other villa guests, but they seemed like passerby in the night. The feeling of seclusion was immediate, and thorough. This is by design.
At this point we should note that for good measure of comparison, AOTB also secured a second villa for our stay, in this case a Park Pool Villa, a 1,938 square foot oceanfront residence with a small private plunge pool. Importantly, ours, and as well as we could see, basically every of the beach villas, had a handy little opening in the front screening foliage which made for easy escape from the very private ocean-facing yard in which the residence's pool is enclosed. By way of that path, in a matter of footsteps we were stepping into the sea. Pure sand, like the postcards, and a gentle ebb and flow of surge as the lagoon drew its breath in and out. While the view in the Park Sunset Water Villa is indisputably better and a huge draw, and while that villa does have a ladder by which you can enter the sea, you do so in an area too deep to stand, and hence your efforts begin and end with swimming. It a different experience all together to walk out to a sandy beach and be able to stand around in the surf, drink in hand, for a good conversation. Thus, easily, the beach here met the Alone on the Beach criteria we look for in all resorts: a beach within walking distance, where you can have the feeling of total seclusion.
We liked both villas in different ways, and made good use of each during our stay. We tended to enjoy the beach villa during the early part of day, and the overwater villa around sunset. And, admittedly, many nights after maybe a little too much wine, we could be found at the beach villa for night swimming in the warm sea.
This gets us back to the issue of serenity. While the hotel is centered around a complex containing, among other things, a restaurant, bar and larger resort pool – which pool is incredibly lovely – only ever a small handful of the seating by that pool was occupied despite our understanding that the resort was very close to full occupancy. So where the heck was everyone? Some were out on excursions, but in the end it mostly factored back to how great the beach villas were. Especially if you had a pool, but even if not, it's a great day to just hang out and swim seaside from the beach villas. These dwellings' inviting and functional nature thus leads, at a resort-wide level, to yet a greater sense of solitude than might otherwise be the case as guests have little incentive to wander forth – almost exactly the opposite of most resorts, where everyone is drawn to the common areas. The Park Hyatt keenly plays off this in their marketing, which promises a "barefoot luxury resort experience, evoking a remote and untouched paradise".
At risk of giving the impression that this place through its abundant solitude might be a little too, well, boring – we can dispel that. You're most welcome to elect to not do anything (a great choice on many days), but if you want, there are a wide variety of activities. First off, scuba is huge here and if you're not a diver the snorkeling is special enough. They have what they dub a house reef, advertised as "abundant with marine life; resident turtles, black tip reef sharks and more". And was it. The well outfitted scuba center provided excellent equipment; and while of course not required for certified divers, we preferred to dive with a guide, who was terrific in showing us the many native marine elements.
We spent a lot of time on boats. Those same craft that spirit you from airport to island are quite effectively repurposed in a variety of ways for day tours. We fished one day, using traditional Maldivian lines, with good results – our tuna was cleaned and cut to sashimi and our rainbow runners were grilled by the chefs on return. We explored the history and geography of the island with the resident marine biologist, visited small local towns for tours, and stopped by uninhabited islands for swimming and picnicking. And though it involved leaving the atoll's lagoon and giving way to the significant swells of the open ocean, a highlight was when they took us to swim at the equator. Watching that GPS count down to latitude 0.00 and then drift back and forth from the northern to southern hemispheres was unreal. Before the plunge, inquiry was made as to whether there were sharks in the area; the answer, "not too many". What the heck – we came to swim the equator and swim we did, swells, sharks and all. Point of all this being, while some travel writers express only the chance for solitude, in some cases concluding that's your only option, not true. The possibilities for adventure here are broad.
You'll have a host or hostess from toes on island to the goodbye wave from the dock when you leave. I suppose technically, a butler, but really better put for here, a handler. Ours, Natalia, a kind young woman from Russia, attended to every need which was especially important taking into account our rather heavy activity schedule. Because, after all, you're at the mercy of the seas and our excursions, particularly the one into the open ocean, needed careful monitoring with some attendant shuffling necessary, sometimes at last minute, to account for wind and sea conditions. So plan your more aggressive activities for early in stay, to allow flexibility if they get delayed. Outside of activity planning, Natalia handled our dining and beverage needs, and took care of all the other little things we needed here and there.
The dining was innovative especially considering the remote location. It fixed on locally available items, like fish and tropical produce, supplemented by a significant effort to grow things (do ask to tour their garden) – though many items came by occasional barge delivery, like, oddly, a lot of Corona beer. We were fine to concentrate on the fish, lobster, fruits and other delicacies and didn't miss a few things you might normally see at a beach resort. Think local tuna curry for breakfast, though more ordinary options could be had. To their credit, as well, the resort had a number of special theme nights which served to mix things up. The cocktails were bespoke and of high caliber, with a nod, like the food, to locally available ingredients (not including local liquor, of which there is none in the Maldives). Speaking of the sourcing of things for the island, do take the back of house tour, given occasionally and usually led by the island's chief engineer. The efforts to run this island, from desalinization to power supply to refuse disposal are really quite incredible.
Though there are only 50 rooms of a handful of types, this excellent property deserves, in AOTB's view more than most other places, a pretty thoughtful analysis of what accommodation would be best for you. For families, and especially ones with children who aren't able swimmers yet, we'd for sure recommend a beach setup and if the family is large, one of the two larger villas. For couples, the decision is less clear. Given a choice between the Park Sunset Water Villa and the Park Pool Villa, it's a bit of a toss-up. If you aren't beach-going constant swimmers and want more of a view aspect, take the Park Sunset Water Villa. If you're constantly in and out of the water and like to flop around on the sand, you'll probably be happier in the Park Pool Villa, and then, enjoying sunset from the main resort pool, bar or adjacent large community beach. The air conditioning runs a bit beefier on the land villas, so if that is important, factor that in too. Really though, it hard to imagine going wrong here with any accommodation.
We were sad to leave. Natalia assembled quite a crowd to bid farewell from the shore as our powerboat sped off into the horizon; their enthusiastic group wave didn't stop until they fell out of our sight. It left us with the warm feeling that if and when we are fortunate enough to return, they'll still be there waving.
Alone on the Beach Rating: A+