Four Seasons Manele Bay, Lanai - Review - Prime Oceanfront
Alone on the Beach spent ten nights recently at the Four Seasons Lanai Manele Bay. As usual, it was total bliss.


Manele Bay in Lanai has been a favorite spot of Alone On The Beach for going on 25 years, through several of its iterations since then.  From the 1930's the Dole Pineapple Company operated an "employees only" hotel here.  Fast forward to 1985 and Castle & Cooke, the landowner of most of Lanai, announced plans to commercially develop the beach resort at Manele and the sister property on the mountaintop at Koele.  Opening in 1991, eventually the beach resort at Manele Bay made its way to  Starwood's Luxury Collection (oh, the days you could redeem Starpoints to stay here...).  Around 2010, Castle & Cooke abandoned their contract with Starwood and the resort re-branded as Four Seasons Lanai.  In 2012, Larry Ellison bought out Castle & Cooke taking on this property and essentially the rest of Lanai.  The resort operated for a couple years, then shut down for a time for a complete makeover.  It reopened in 2015.
Manele was from the earliest time cited as one of the best, if not the very best, snorkeling, swimming and fishing beaches in the State.  Some 80 years on, nothing has changed.  The beauty and relative isolation of the spot drive the whole experience here at this hotel.  Just a 3 minute walk down the hill is this sandy refuge, so unspoiled, where the dolphins come to rest and sea turtles swim around; where the reef abounds with life.  Snorkeling and swimming here is truly a pleasure and this is really what Hawaii is all about.  You are for a time a part of the ocean.  Alone On The Beach found themselves falling into a morning ritual of an after-breakfast snorkel, as the sun rose just well enough overhead to parse down brilliantly through the clearest of waters, illuminating the reef and marine life below explosively.  Rarely, did we ever pass even another human swimming in or out.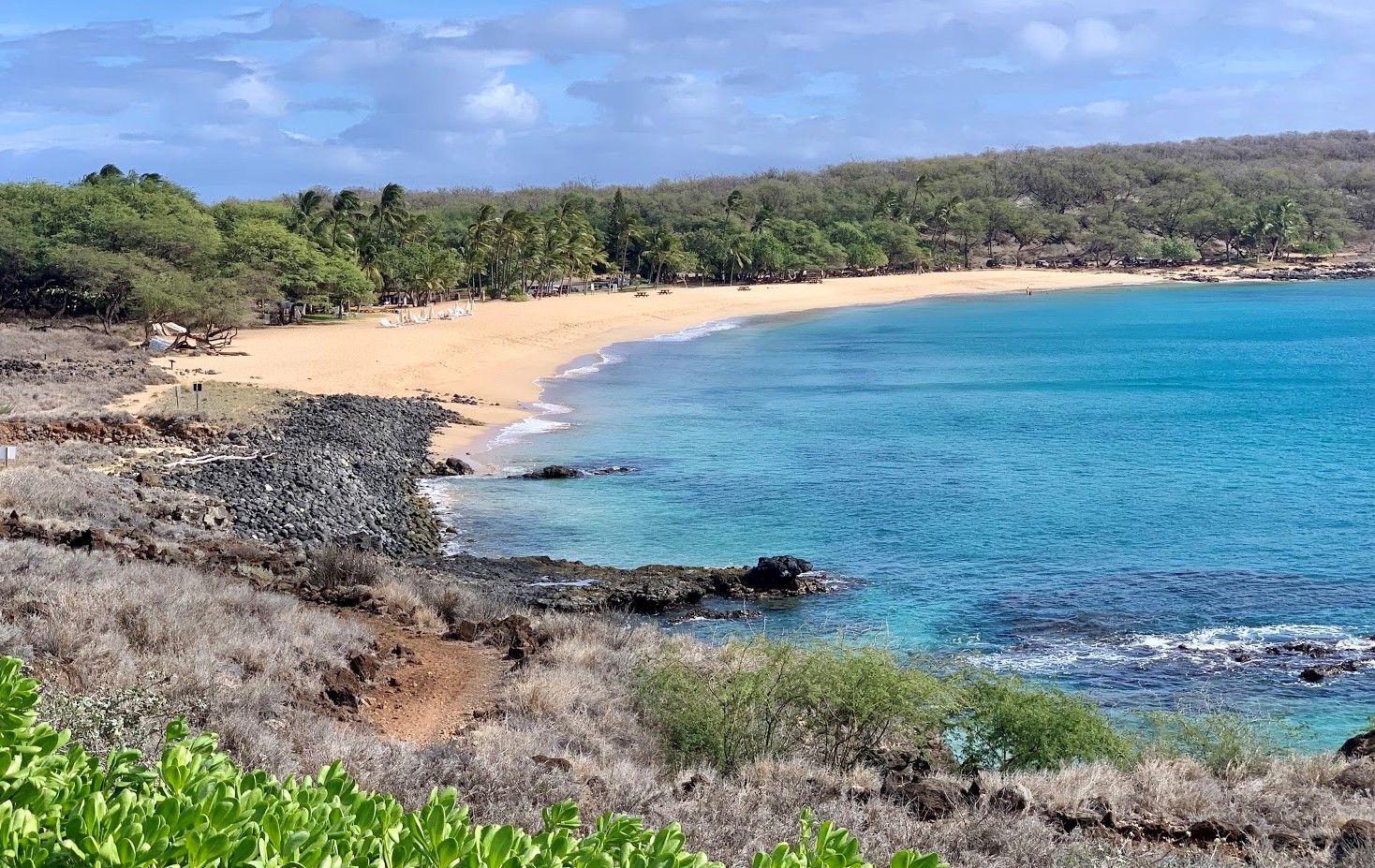 This truly special place is, in the humble opinion of Alone On The Beach, the most private, serene, stress reducing place of them all.  Its worth noting that the picture above is mid-day on the day after Thanksgiving, 2019.  Look closely - if you are not literally alone on the beach, you almost are.  Rinse and repeat just about daily for our recent ten day stay.  On our last day, about 10 a.m. we took a final walk down to find just a single set of chaise lounges set up with a lonely umbrella and a couple immersed in books.  We couldn't help but interrupt them: "does it get any better?"  Surely, not.  So private, quiet and beautiful.
Sifting through the very best of Hawaii, it's worth mentioning another strong contender: Four Seasons Hualalai.  (As for the Four Seasons locations in Hawaii, the Maui location is too dense for our liking and as such we would opt for the Andaz when in Wailea, and we haven't been to the newer Oahu location yet.)  I think most people would cite Hualalai and Lanai as at the top of the Four Seasons pecking order in Hawaii, and probably (though not accurately in our opinion), in that order.  Hualalai is a terrific resort, and no disrespect meant, but the point of juxtaposition of these two resorts - in addition to Lanai being harder to get to and as such just simply more exclusive and quiet - is the presence of this wonderful Manele Bay beach that is lacking at the Big Island location.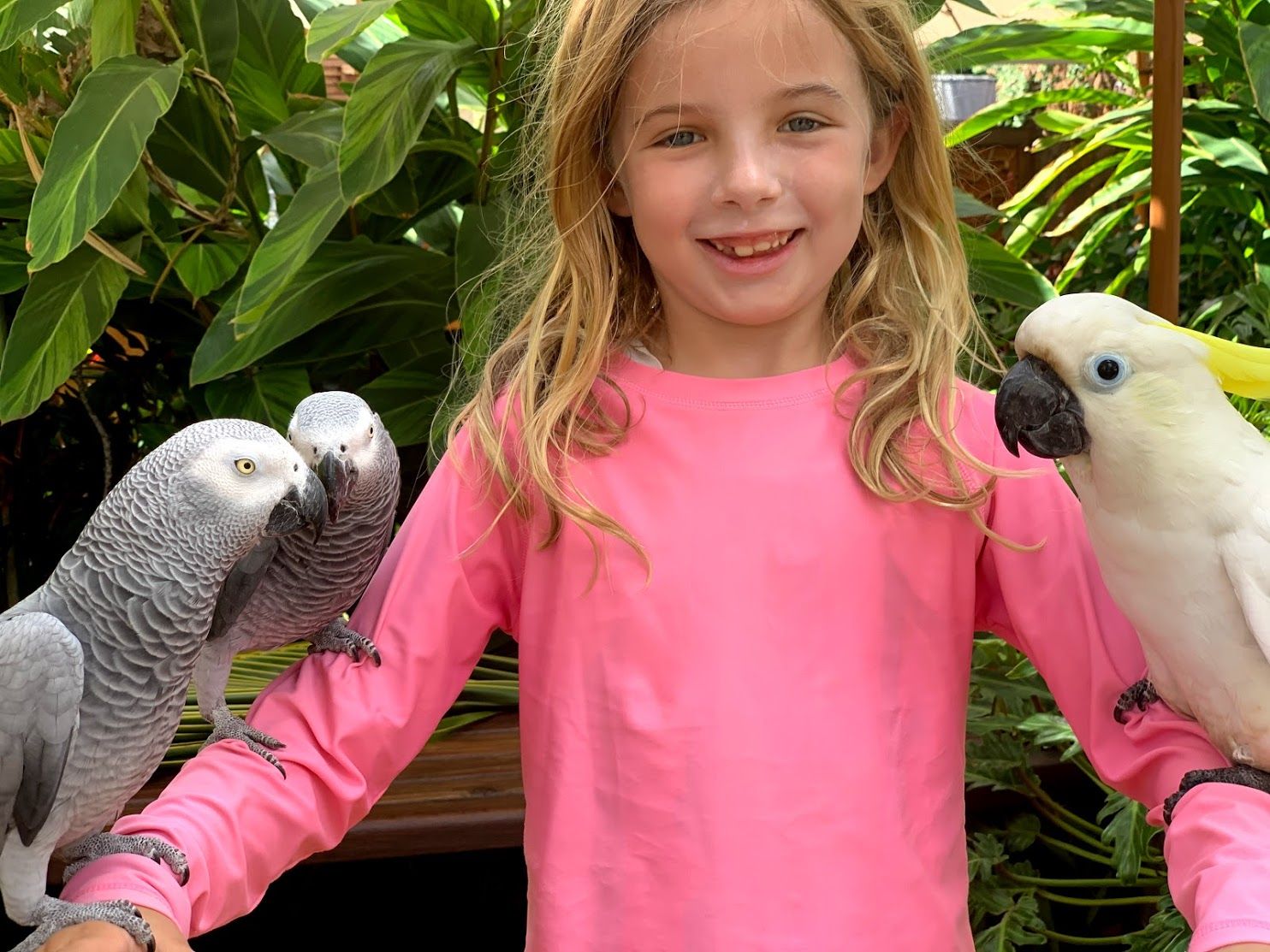 Framed against this, so what of this newfound luxury remodel under the eye of Larry Ellison?  We're sold.  Do we miss the grand lawn and big pool?  Sure, that was nice.  Our oldest daughter learned to swim in that pool.  It was epic, honestly. But Manele is essentially a desert landscape and we can appreciate the need to get rid of grand lawns and go for landscaping that is more conservation-based in nature.  They did a nice job, and the aesthetics of the grotto pools and the overall better use of space is a plus.
Everything else is just spot on without missing a beat: caring and dedicated management, out and about making sure things are going well, available to chat and friendly; great food (absolutely, positively the best breakfast in Hawaii even slightly beating out Ka'ana Kitchen at Andaz Maui which is spectacular and overall, Hawaii's best restaurant) and importantly, good mid-day pool food which is often the biggest miss in Hawaii resorts; well designed and clean rooms; outstanding kids club staff and activities (our kids have quite literally cried when leaving "Auntie" and her staff...); intricate and well kept grounds (above, Alone On The Beach Jr. loved the birds around the resort); on and on. During our most recent stay - these was not one small thing wrong.  Nothing.
Oh, and our room.  We opted for a Prime Oceanfront on the ground level and were graciously given a corner room which suited Alone On The Beach's taste perfectly because, being on the corner, we had outdoor furniture facing two ways.  We were able to position for morning sunrise, and then the other way, for evening sunset.  Complete bliss for us - sunset time is our favorite and we always appreciate a nice place to sit and enjoy.  With that said, no matter where you are positioned residentially, the hotel has tons of little spots to watch everything.  In fact a tip is to make sure to explore the little path that originates by the lowest section of pool lounges and wraps around the coastline below the hotel.  It goes quite a way, with many very special little nooks.  As for the nook below, and elsewhere, the whole place is a nod to Restoration Hardware, which Alone On The Beach has to give a shout out to, as they are our hometown largest business here in Corte Madera, California.   In particular, we love the many Luna daybeds, by far the #1 most popular place to hang out by our own home pool!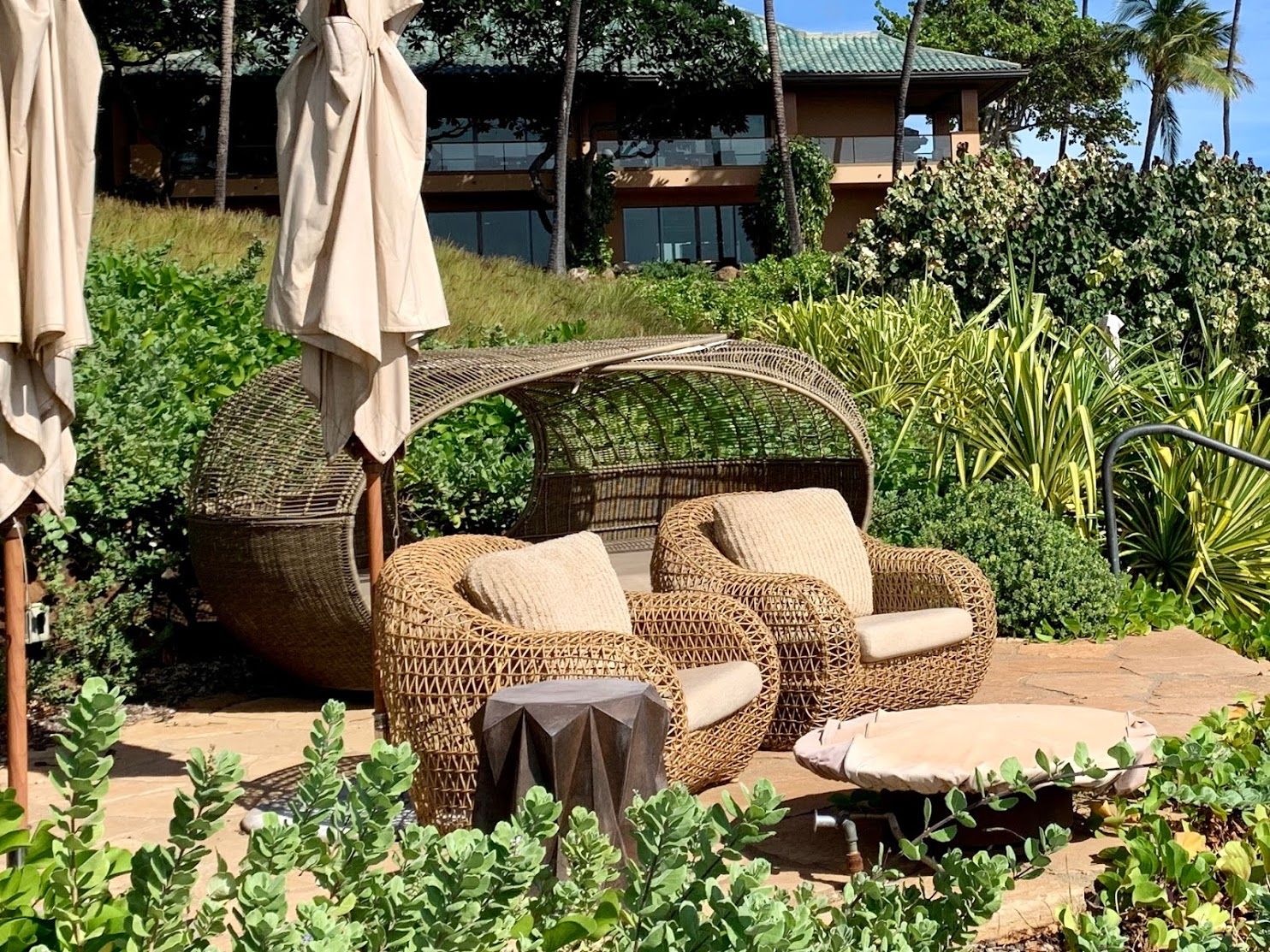 Worth a mention for those that may not have been back to Lanai recently is that part of the golf course at Koele has been developed into an Adventure Park.  There are ziplines, giant swings, tightropes and more for the kiddos.  Our eldest two daughters had a terrific time at this really top notch new facility.  While the weather is rarely bad on Lanai (and wasn't for a single day of our recent stay) - this would be a pretty decent cloudy day activity.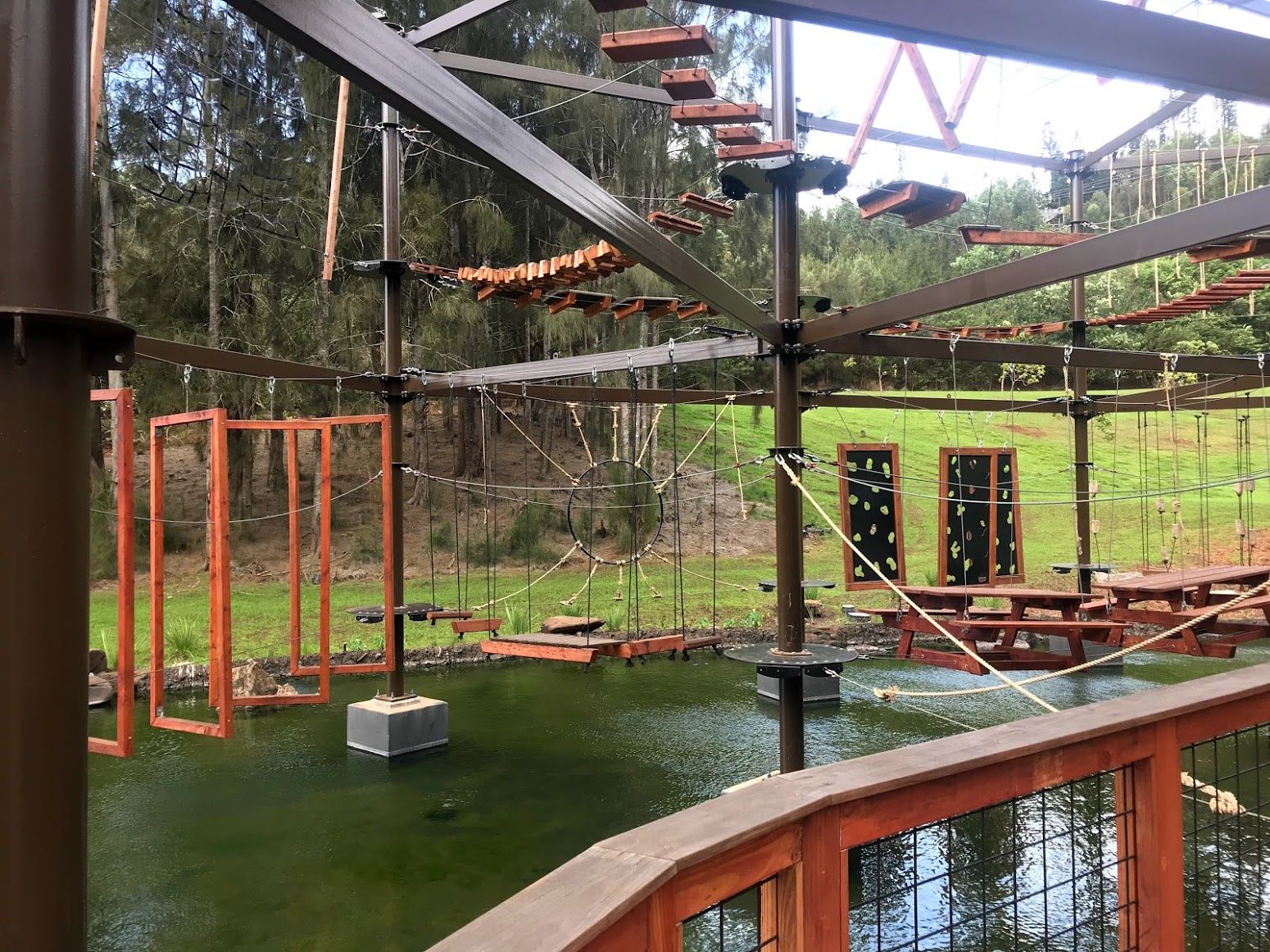 Special credit, too, for management's innovative programs to keep things interesting.  Of particular note, the hotel has started a program to occasionally bring in musicians to perform for guests (and in many cases the local community, too) on the luau grounds.  When we were there, on three nights they held concerts, including for two of those with singers and guitarists G Love and Eric Krasno of Soulive.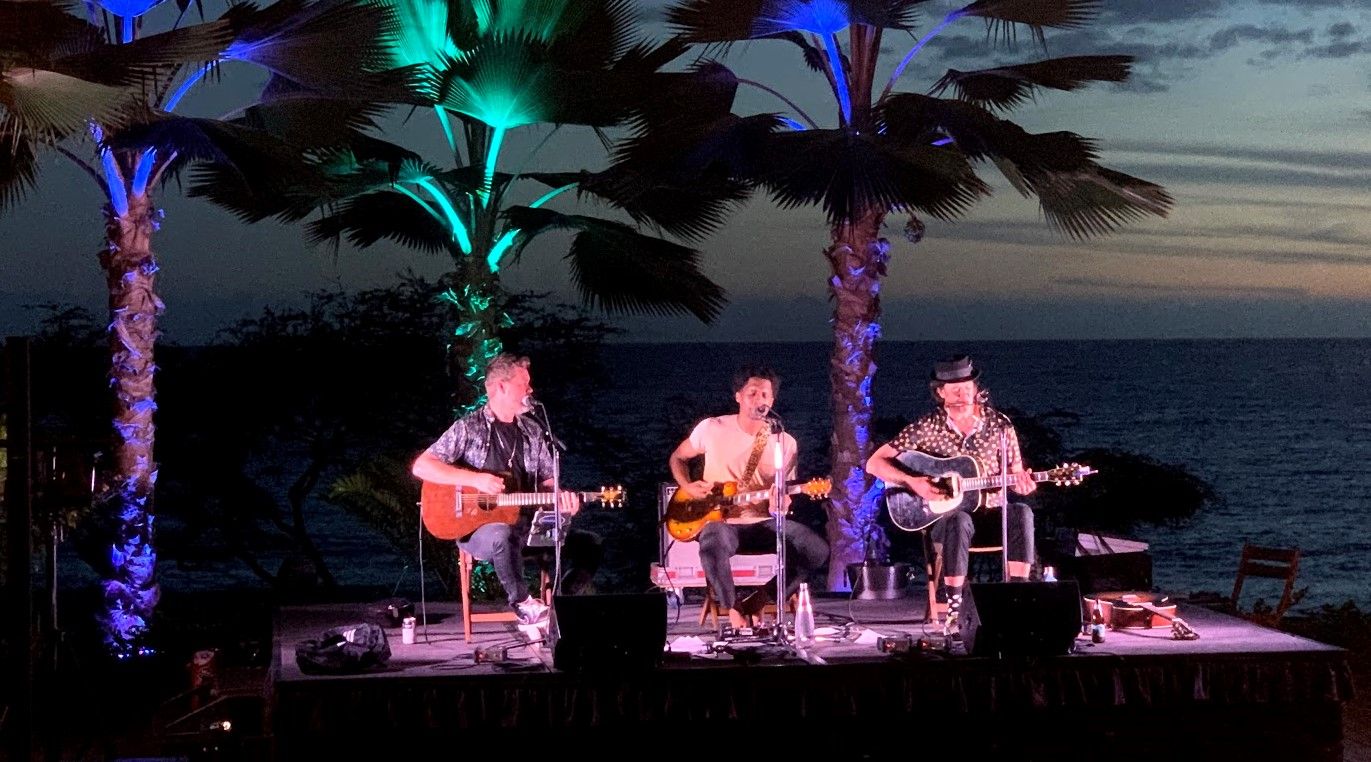 As the sun set, drinks flowed and tasty food stations were opened up around the periphery of the grounds.  Kids ran and sang blissfully and day turned to night.  What a special thing to do, and moreover, for free.  It typifies the approach here: once you pay your way in, there's just a ton of stuff done to make it special and mostly, the hat isn't passed.  It's Hawaiian graciousness at its best.  Our vote: best Hawaii resort and our favorite worldwide resort.
AOTB Rating: A+