Helicopter Touring Western Australia and Crown Towers Perth - Review - Deluxe Villa

Alone on the Beach recently spent 5 nights in a deluxe villa at Crown Towers Perth.  Here is our review.  Perth is far from our home base in San Francisco, but having visited about 20 years ago, it seemed like time to go back.  Our transit was comfortable in Singapore Air Suites Class by way of Hong Kong and Singapore, followed by a regional flight in Business Class to Perth.  A speedy immigration and limo ride put us at the property about 26 hours after leaving the Bay Area.
Our visit was in February, so summer time down under, and the weather was perfect.  Perth is like the U.S. west coast weather-wise, as opposed to the Australian east coast which is hot and humid in summer: it's pleasant, usually not too hot, and with dry air and low humidity.
Since the summer weather is perfect for it from a safety and reliability point of view, we had opted for a few days of helicopter touring.  The choice of Crown Towers Perth was in light of the fact that the helicopter company (Corsaire Aviation, highly recommended) would agree to land on the hotel's lawn for the pick-up and drop-off each day.  This saves a limo ride to the airport, versus staying in a city-center hotel.  As the Crown Perth is very resort-like with many pools, a spa and a variety of high-end restaurants (including Nobu), and given that we previously stayed in the city center, the decision was easy.  It certainly made for convenient helicopter touring: in the mornings we would just sip coffee in the top floor lounge and when we heard our ride coming, we would walk down to the lawn and jump in.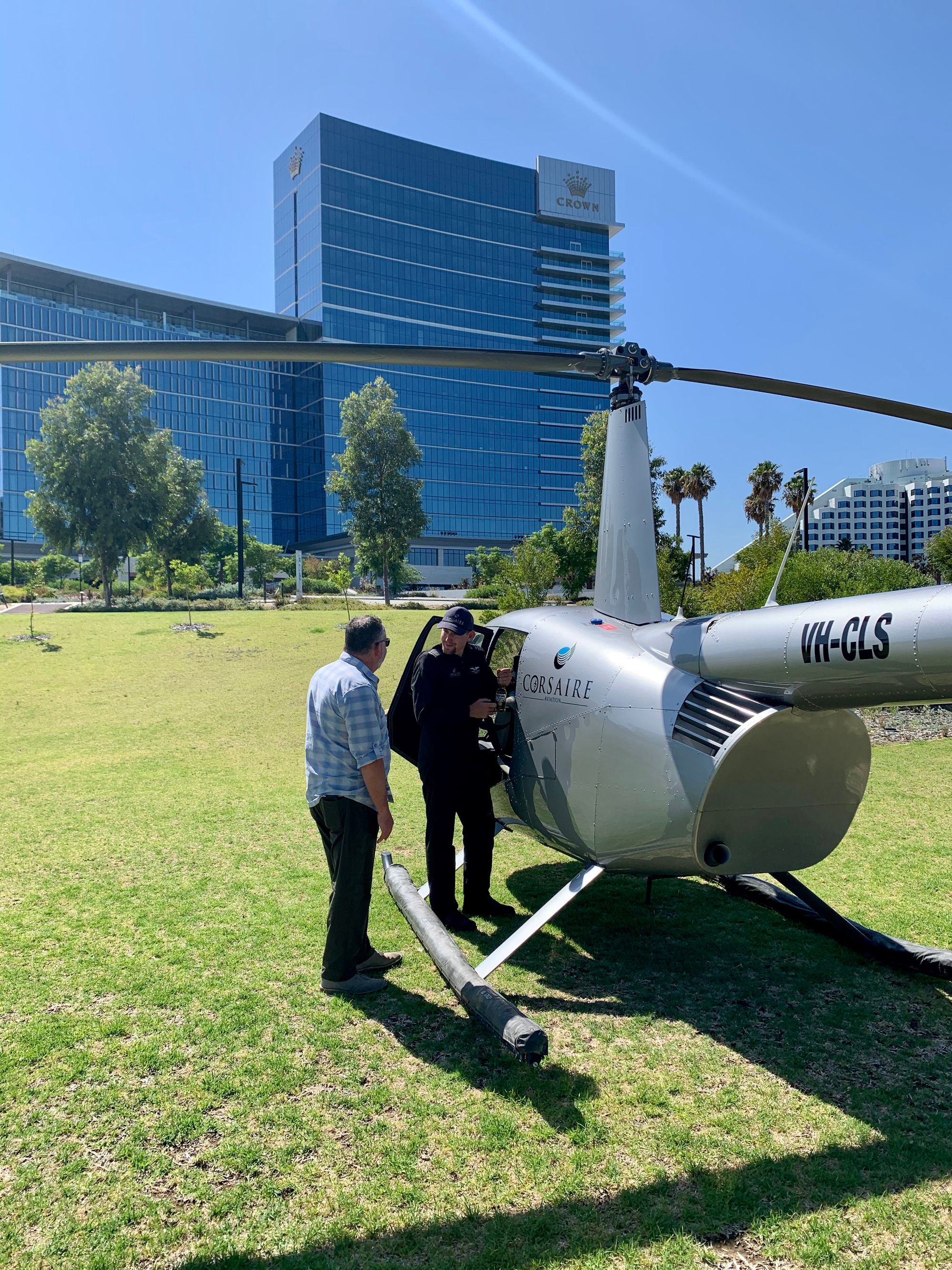 Our first day of touring was Corsaire's Margaret River Heli Wine Tour.  That tour is a full day affair, with a ride down to the Margaret River wine region and a chance to fly into one of a few wineries they suggest.  Their website offers multiple choices for a stop or two prior to lunch, as well as multiple choices for lunch (all of which are at wineries).  We elected to do Amelia Park for a fly-in tasting and Leeuwin Estate for tasting and lunch, but Corsaire will tailor your visits to your preferences for wine, food and otherwise.  We selected based on wine but also because Leeuwin is home to a fantastic concert venue where numerous world-class musicians have played.  You can see the stage in the photo below to the right of our luncheon table.  Though we wouldn't get to see music, the halls are adorned with photographs and pictures of the many artists that have played there over the years, and as AOB are big live music fans, it was a special place to have lunch.
The food, wine and the whole situation at both wineries was just terrific.  This is life about as good as it gets.  When we flew out of Leeuwin, basically every dining table stood up and hung on the balcony rail and clapped and waved us goodbye.  Way to roll!
The Margaret River Heli Wine Tour includes a stop at Rottnest Island on the way home (or if you prefer you can ditch it and add another winery; we opted for Rottnest).  This is a lovely, secluded and fairly quiet little island with powdery white sand beaches and a promenade where we enjoyed an afternoon pitcher of beer to end the overall fantastic day.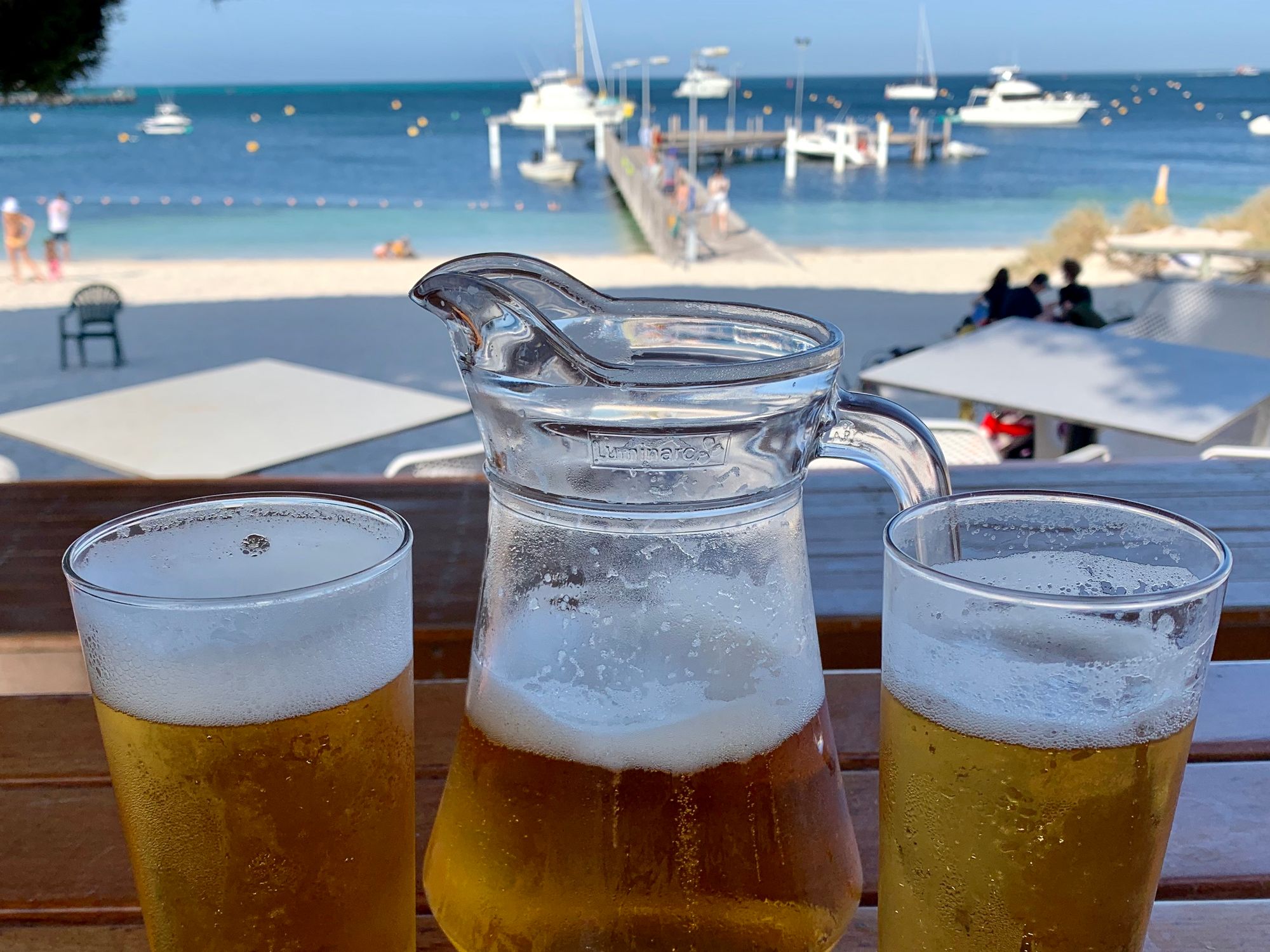 It was a short 15 minute ride back to the lawn of the Crown Perth to close out our first day of helicopter touring.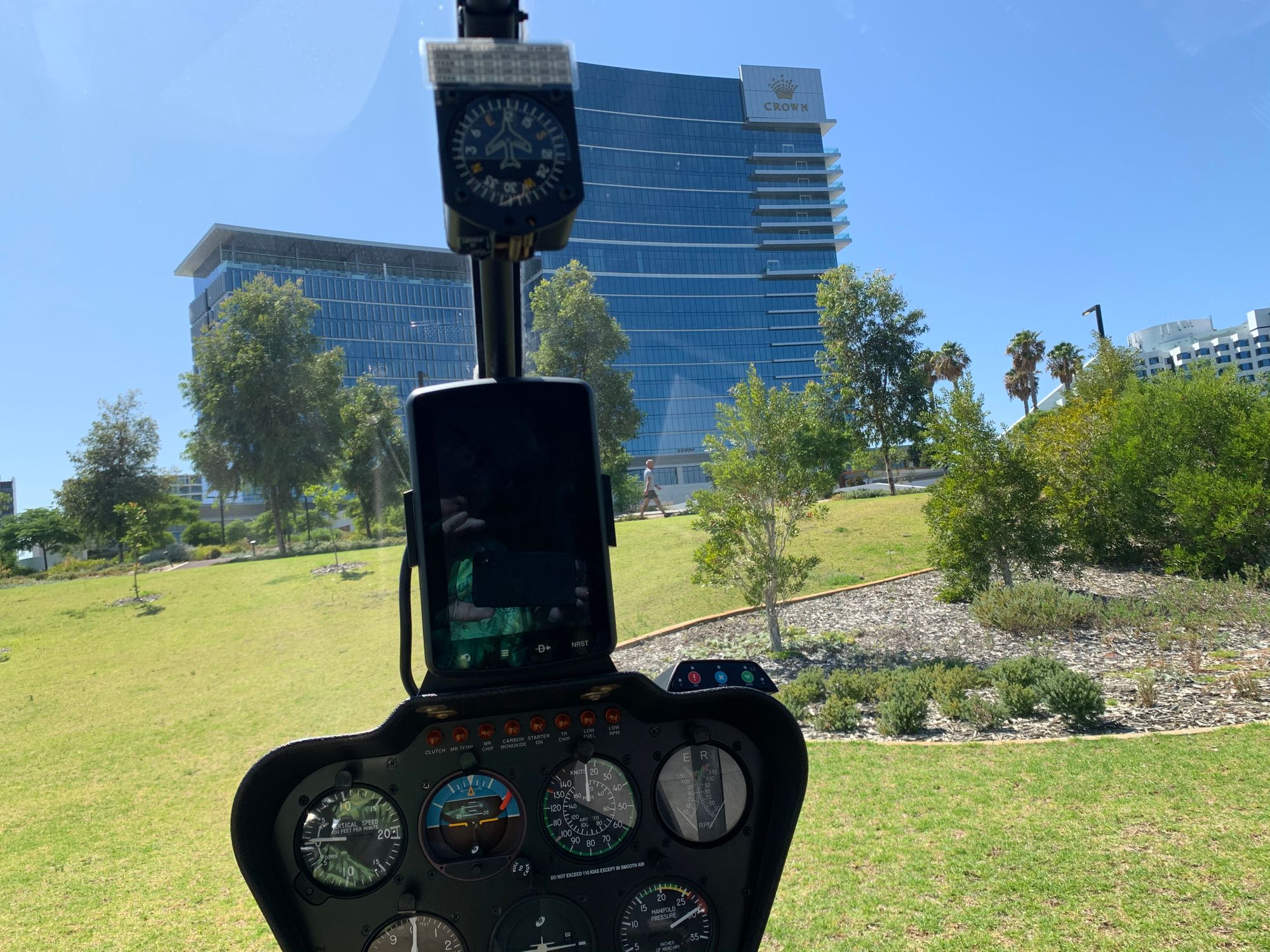 Corsaire offers quite a few day trips by helicopter, and the choice for day two was not as easy among the many other great options.  We elected to do the Pinnacles National Park tour which includes lunch at the somewhat famous Lobster Shack.  This involves flying north along the coast for quite a time, with the first stop being a lobster lunch on the beach.
Clearly though, the highlight of the day, and boy was it a highlight, was after lunch.  You are flown a quick 10 minutes inland from the coast to a helicopter base at Pinnacles Park, where Corsaire arranges for a transfer to a 4WD vehicle with guide for a tour through the substantial, and rather amazing, Nambung National Park, most commonly just called Pinnacles.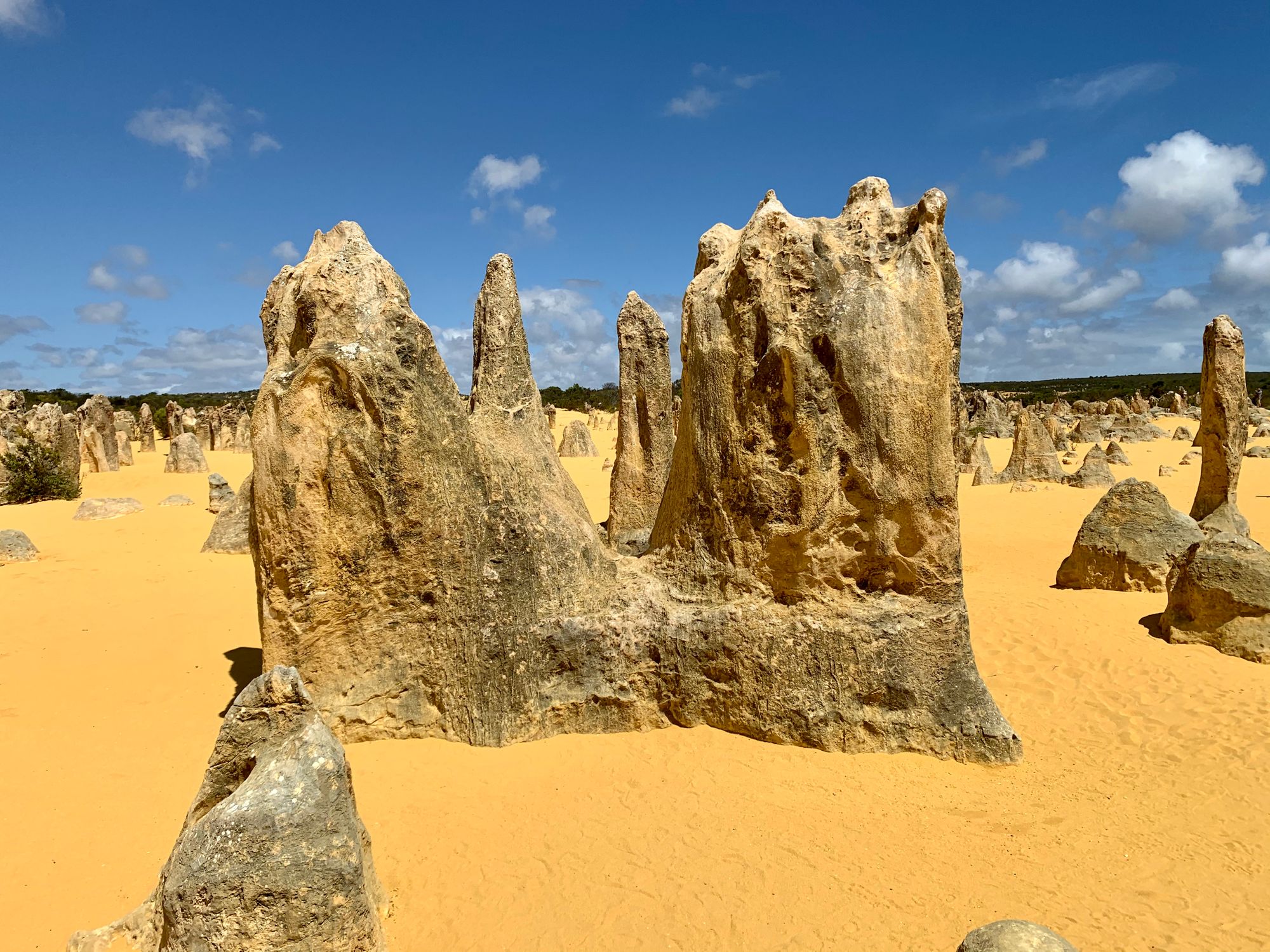 The geography of the Pinnacles is surreal.  The rock formations formed over millions of years through wind and erosion take on many forms and create an almost alien-planet like landscape.  It is well worth a visit, though pretty far from Perth by car.  So, it is especially a good option for helicopter touring as otherwise you might miss it if your stay is short.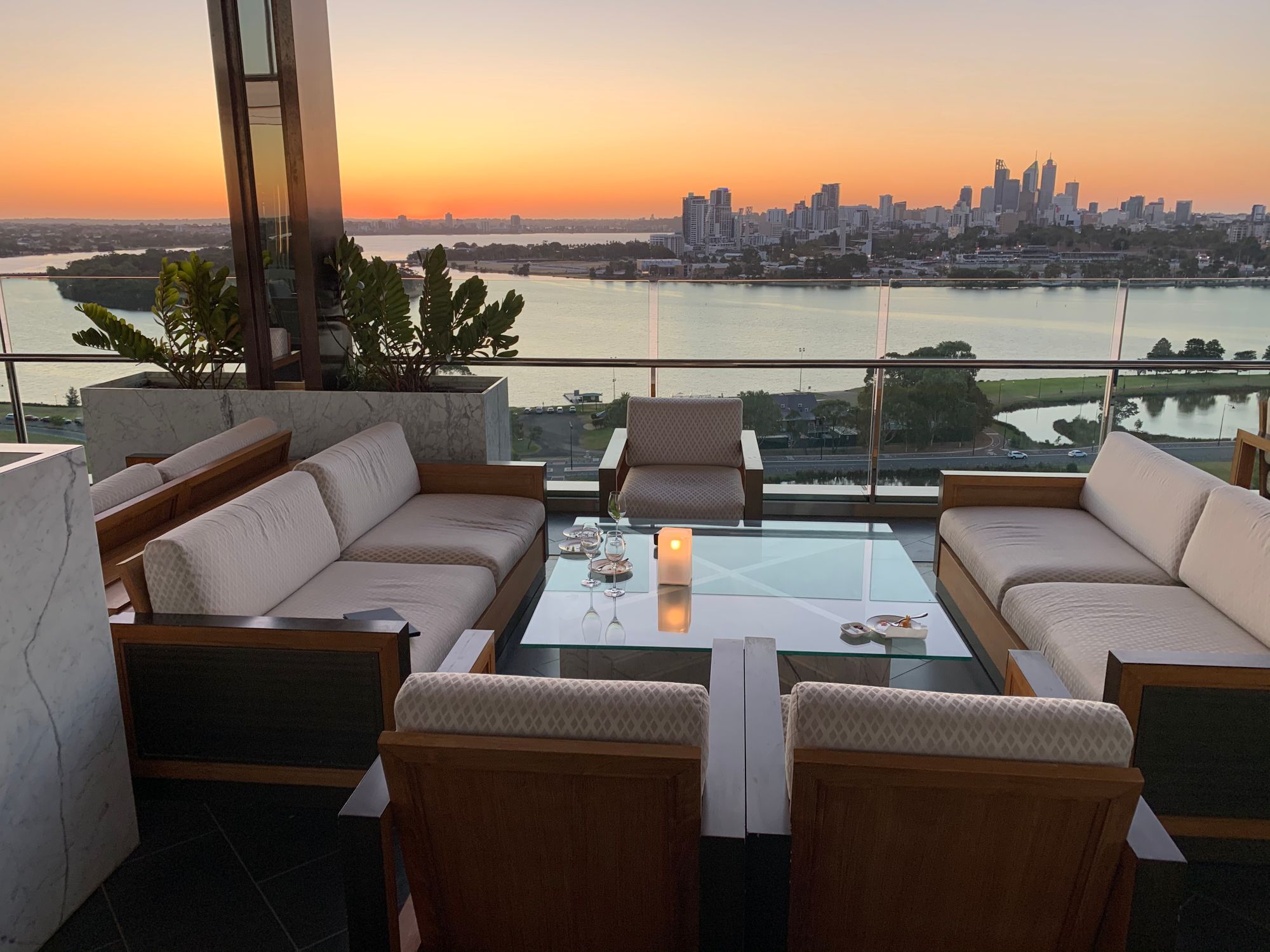 After a couple days of touring, we were ready to enjoy a spa and pool day and some of the amenities of the fine resort.  Our deluxe villa was inside the concierge levels of the hotel, called the Crystal Club.  Its a "hotel within a hotel" concept and pretty much everything you need is handled by the special check-in desks, concierges and club lounge staff within the floors of the Crystal Club itself.
This is where you'll take your morning breakfast, enjoy all day light snacks and drinks, and come for evening cocktails and hors d'oeuvres.  There is ample indoor seating, but probably a good one-third of the seats are on the massive outdoor deck overlooking the Swan River and downtown Perth in the distance.  We found evening sunset time to be very enjoyable here.  The bespoke cocktails were extensive and consistent with our many past visits to Australia, we found the locals very talkative.  We made quite a few new friends!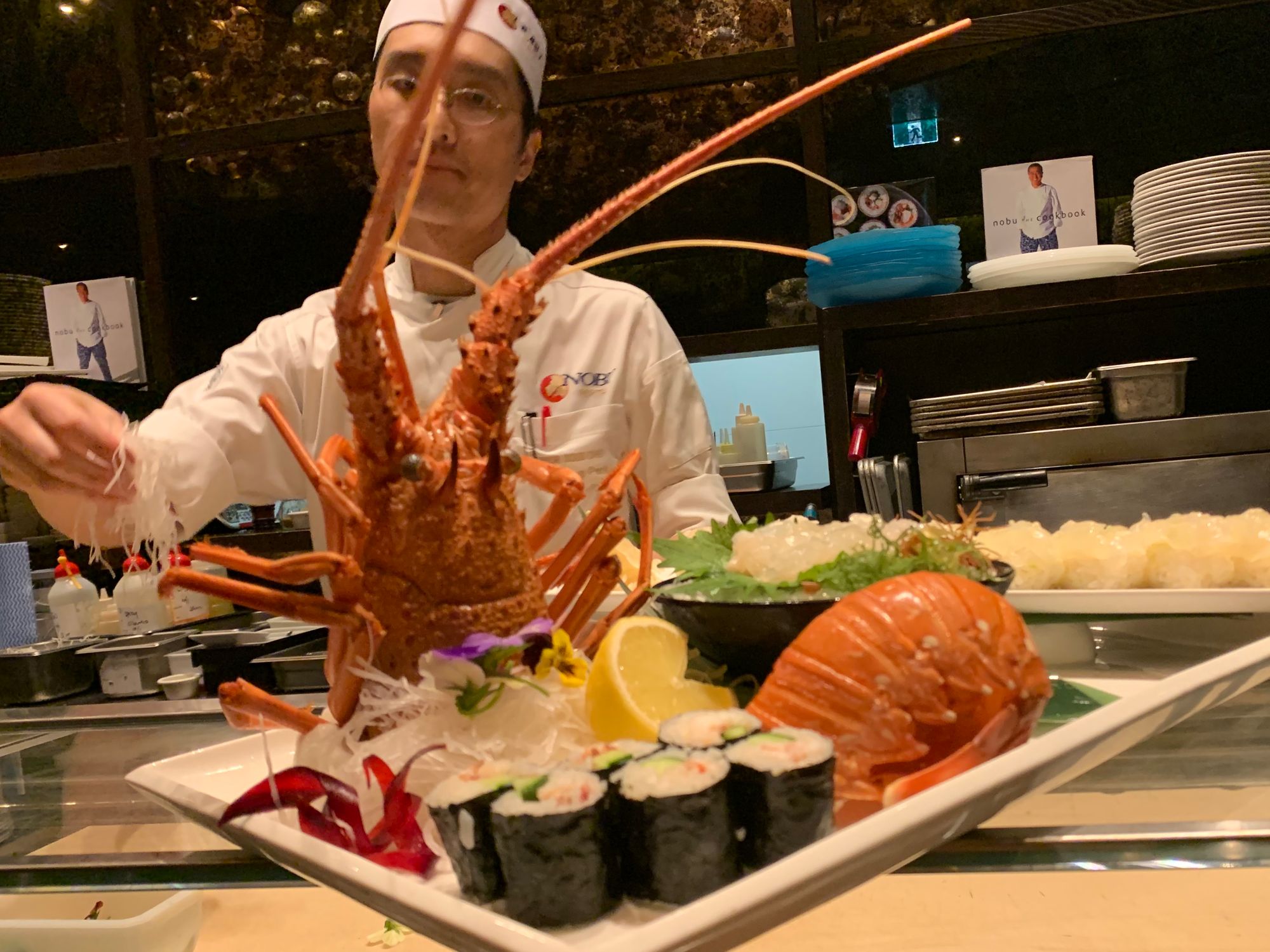 The dining options are extensive and we enjoyed several great dinners at Crown Towers Perth, including a fine meal at Nobu as well as a fantastic Modern Australian meal (think California cuisine, or farm-to-table) at Rockpool Bar & Grill.  The options go well beyond these couple of establishments, and range from casual to very high end.  There is an attached casino with several bars and nearly continuous live music, if any of that is your thing.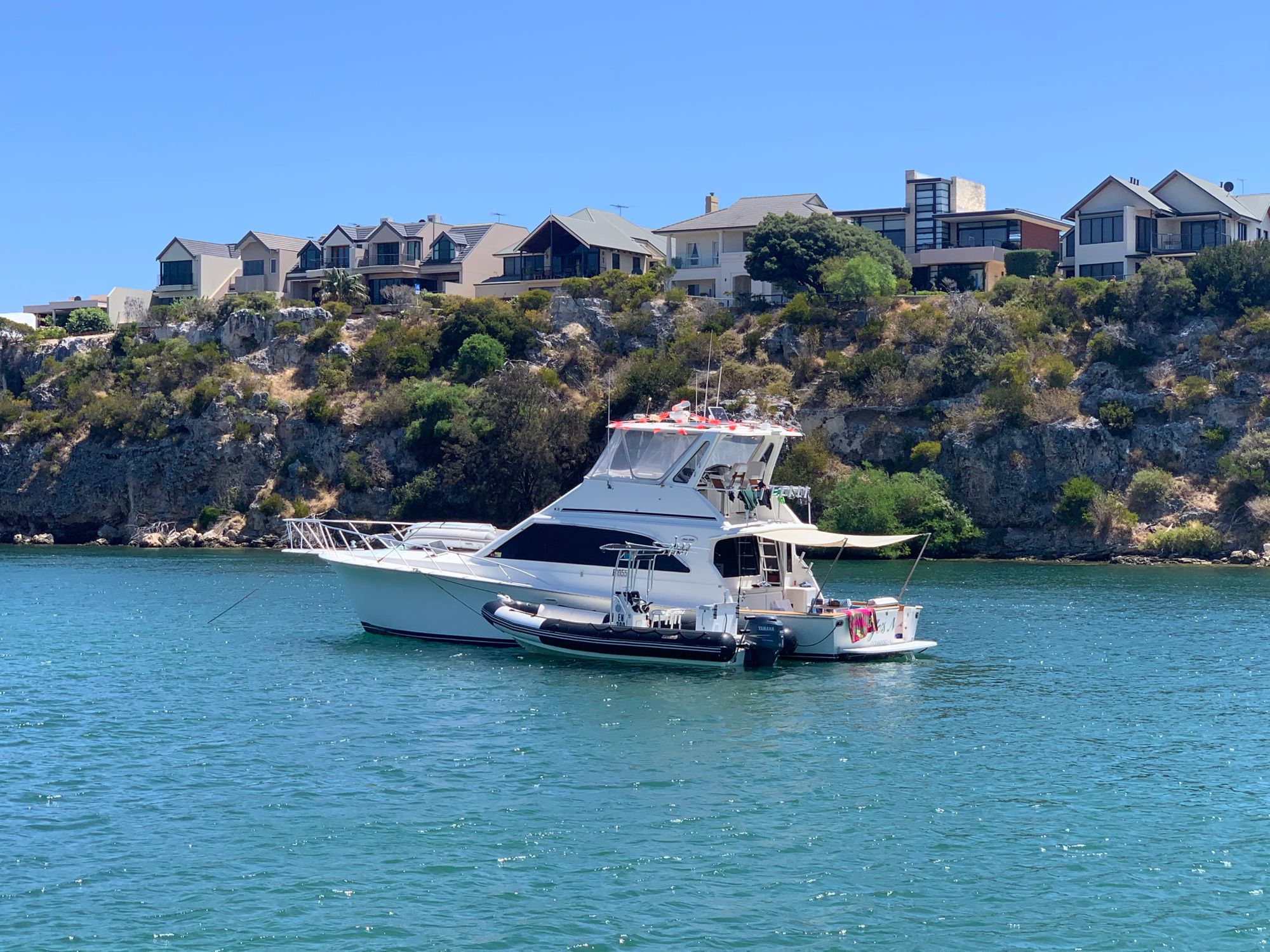 On another day, we opted for yachting which we arranged through Boatique Cruise Charters.  This was a really great option, and provided an entirely different way to see Perth as opposed to the helicopter tours.  Our 47 foot yacht was well equipped and while we were qualified license wise to skipper it ourselves we opted to hire a captain.  AOB usually will opt for this in international and unfamiliar waters and particularly with some offshore, which was in fact half our day (the other half being going up the Swan River which also was great and recommended).
We haven't talk too much about our accommodation in this review because frankly, we were touring, poolside, eating out or in the Crystal Club lounge pretty much all the time!  But the deluxe villa was immaculately well cared for, beautiful and with many high-end finishes.  It was, like everything at Crown Towers Perth, very highly recommended.  This was a great if somewhat short trip, and if you are dropping into Perth we hope you can enjoy some of the adventures we had!