Andaz Napa - Harvest Suite & Powerboating the Napa River
Alone on the Beach recently captained a 37 foot twin screw French powerboat, a Jeanneau Velasco, from Sausalito through the San Francisco Bay and up the Napa River to the Napa downtown dock, where we tied off for a weekend stay in the Harvest Suite at the Andaz Napa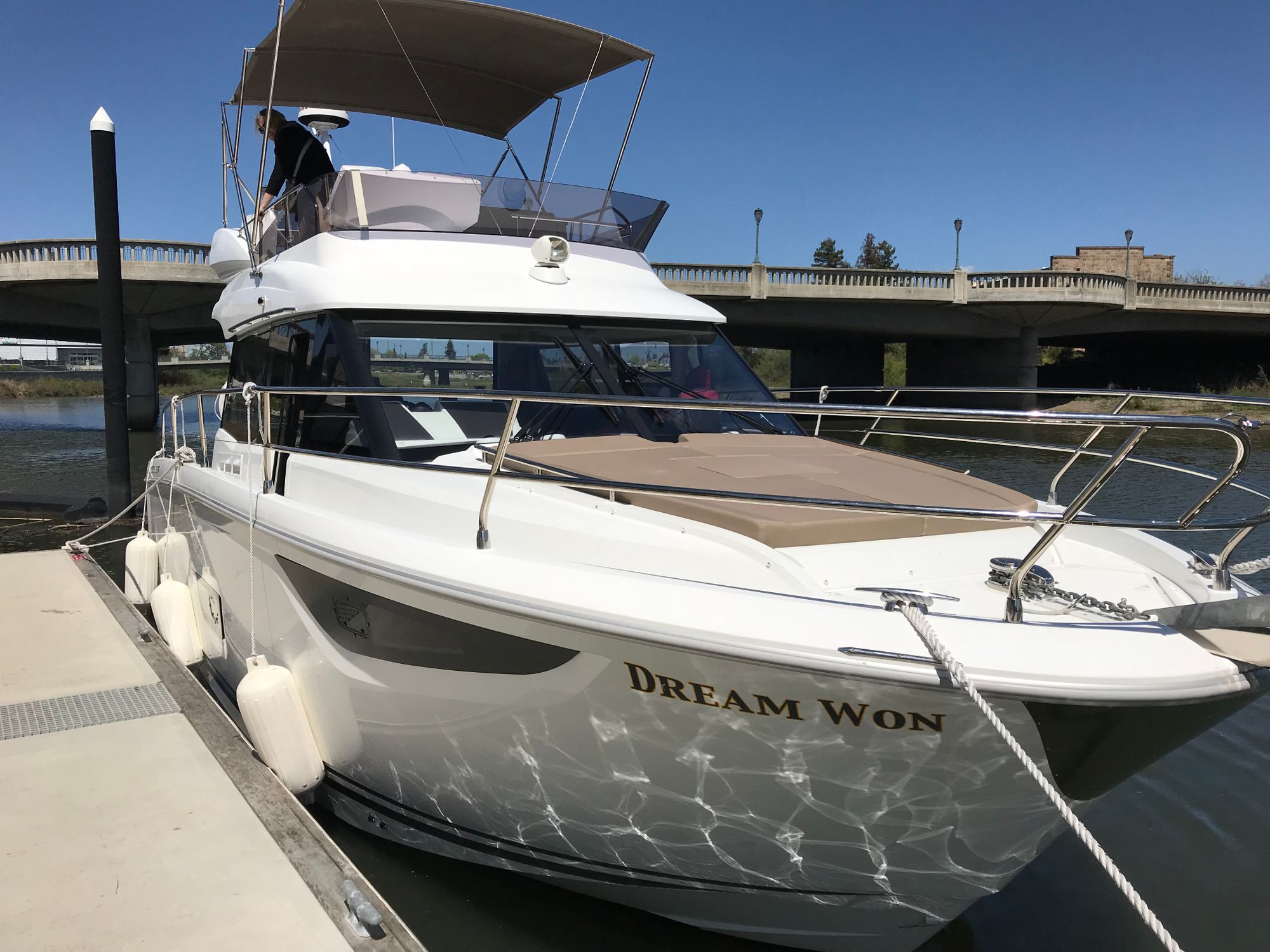 Alone on the Beach recently captained a 37 foot twin screw French powerboat, a Jeanneau Velasco, from Sausalito through the San Francisco Bay and up the Napa River to the Napa downtown dock, where we tied off for a weekend stay in the Harvest Suite at the Andaz Napa.
Napa has really grown up in the last 10 years, what with properties like Andaz, dining like Morimoto and entertainment like Blue Note. There is so much to do in the lovely little wine country town, all walkable from Andaz, perfectly situated in the center of everything that matters. It's a great getaway for us locals and somewhere out of towners can happily dispatch more time.
We set out from Sausalito on a fine weekday April afternoon and made it to Benicia Marina by sunset for a quick overnight. Next day, we motored at speed past Mare Island to the mouth of the Napa River and started a leisurely 5 knot cruise to the farthest you can reach upriver with any boat of significance – the main downtown public dock. As the river narrowed, we were treated to views of wildlife and scenic banks.
We had uncovered that there have been some groundings lately following Corps dredging, but went on a half tide rising, stayed in the channel markers and had no problems with depth in or out. It's a wonderful ride and after about 3 hours we were tied off at the dock in Napa. Before setting out for the 5 minute walk to check in at Andaz, we had a bit of wine on the boat, with occasional passerby coming down to talk to us about bringing the big boat up river, and a few tourists asking to take pictures. The dock area is active with kayakers and other small craft, but we didn't see another boat (other than moored) of any size either weekend day up or down the river, which was curious given what a lovely ride it is, and the nice weekend weather. The Andaz had mentioned that we might have been the first guests to arrive by boat. It is such lovely way to get up there so boaters take note of this great potential getaway.
It was our first time at Andaz Napa, our familiarity with the brand being almost entirely from numerous stays at the very lovely Andaz Maui. I guess sometimes it's harder to get out in your home town, but we were glad we chose Andaz. We were warmly greeted, glass of wine ready to pass to us, by a few of the staff and promptly shown up to our rooms. Our large 2 family gathering had the Harvest Suite and a connecting deluxe room which all told was spacious, modern, clean and especially lovely because of a decent size outdoor terrace (attached to the Harvest Suite) overlooking the hotel's front façade. The terrace caught nice afternoon sun which was a pleasure from the lounging chairs and table, so we slung down and relaxed and a little more wine was had by all.
We had quite the outing at Morimoto and returned to find that the hotel had a wonderful evening entertainer around a bar with heavenly bespoke cocktails. One of the things that's nice about Andaz everywhere is the attention to food and drink, and really, a shout out to the drink aspect. AOTB loves that the mixers aren't cane sugar based ordinary things but exotic juices and other natural items. There was a a very robust nice late night food selection, too.
Our morning breakfast was healthy, fresh and delivered with superb service, following which we casted off down river for our return to Sausalito. AOTB can highly recommend the Andaz Napa for a weekend getaway or as a base for a longer wine country visit. We will be back!